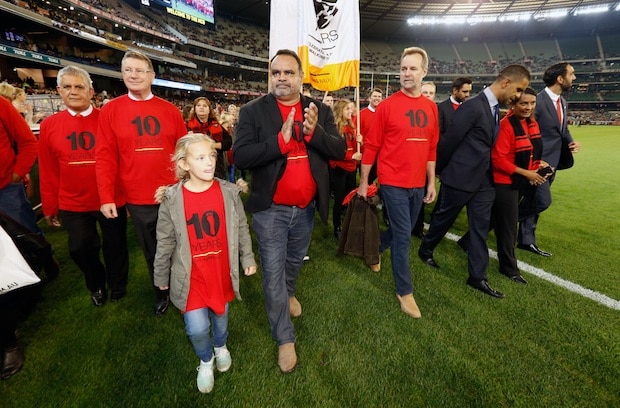 Essendon Football Club is proud to be a founding supporter of The Long Walk, a charity inspired by Essendon Legend Michael Long's walk to Canberra to get the lives of Aboriginal and Torres Strait Islander people back on the national agenda.
The Long Walk raises awareness to improve and support Aboriginal and Torres Strait Island health, wellbeing and life opportunities.
The charity achieves this through its awareness raising events and its education programs Walk the Talk and The Long Walk Cultural Exchange.
Find out more about supporting The Long Walk or to book Walk the Talk at www.thelongwalk.com.auor www.walkthetalk.org.au.
2015 The Long Walk Women's Luncheon
Join MC Shelley Ware at the 11th annual Women's Luncheon, to be held on Friday 16th October 2015 at The Atrium at Flemington Racecourse.
Tickets are $120pp, which is the same price as the last 2 years. Tables of ten are available.
We invite you to book a table of 10 and encourage donation of seats back to The Long Walk for women in our community partnerships with limited funds. To do so please advise when booking.
The program will be announced next week, and will include guest speakers and entertainment, with plenty of time to enjoy the company of your guests.