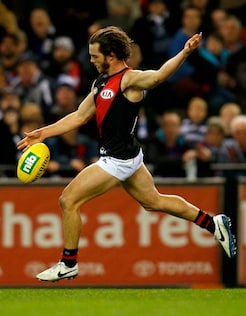 Essendon live wire Travis Colyer's recent patch of good form can be put down to improved decision-making and contested ball.
Colyer was among the Bombers best for a second week in a row on Friday night collecting 19 disposals to go with two goals.
The 22-year-old said Friday night's game ranked among the best of his 36 matches at AFL level.
"It is something I have been working on and building towards," Colyer said.
"I have been on the list for five years now and something I have worked hard on is the contested possession but also backing myself with my speed."
"I have been working with Simon Goodwin and Nathan Bassett and they have given me a lot of confidence to keep going and back myself."
Colyer said coach Mark Thompson had played a key role in giving him belief to use his pace.
"I have had a lot of confidence given to me by Bomber to just back myself," he said.
"A key is to get confidence and strength over the footy which I have been working on and the rest of it will come for me naturally with the run and pace."
He collected nine contested possessions among his 19 against the Cats, an area which he has focused on improving over the last few months.
"It is something I have been working really hard on, I spent six weeks in the VFL working on that (contested football)," Colyer said.
"It is something that I know a lot of the boys at the club wanted to see me do well and it is good to go into the game with the boys knowing they are going to get this out of me every single week.
"It is getting confidence from them that they know what they are going to get from me.
"The coaches and everyone has been hard on me in terms of getting that right because they know once that is up to AFL standard then everything else will flow."
The 174cm speedster knows he has to continue his form of recent weeks on a more consistent basis if he is to maintain his place in the side.
"Our football is based around contested footy so if you can't win your own ball and do the stuff on the inside as well as the stuff on the outside then your not going to get a game in this football side."
"It is driven by Bomber and Goody so it is something that I really want to get good at."
Coach Mark Thompson was full of praise for the coming of age of the young half forward.
"I really like what Trav has been doing, he has been in and out of the side with areas to work on," Thompson said.
"He has worked on those areas, played four or five terrific games of football in the reserves which we made him do because we have previously bought him up too quickly."
"He has really valued his position in the team, worked on the stuff he has needed to work on and has had two really good weeks."
"He is not going out of the team when he is playing like that."
/* * * CONFIGURATION VARIABLES: EDIT BEFORE PASTING INTO YOUR WEBPAGE * * */ var disqus_shortname = 'essendonfc'; // required: replace example with your forum shortname /* * * DON'T EDIT BELOW THIS LINE * * */ (function() { var dsq = document.createElement('script'); dsq.type = 'text/javascript'; dsq.async = true; dsq.src = '//' + disqus_shortname + '.disqus.com/embed.js'; (document.getElementsByTagName('head')[0] || document.getElementsByTagName('body')[0]).appendChild(dsq); })();
comments powered by

Disqus