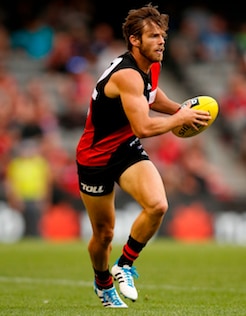 It's an important game for us if we want to be playing finals at the end of the year.
Colyer on taking on the Power
A fast start will be critical if Essendon is to silence a rocking Adelaide Oval in its clash with Port Adelaide on Saturday night, small forward Travis Colyer says.
The Bombers certainly can't afford a repeat of their early efforts against Geelong last Friday, when they conceded a 29-point half-time deficit.
Essendon worked its way back into the game with a rush of five goals to nil in the third term, but ultimately its tardy start proved costly.
Colyer said the Bombers could ill afford to repeat the dose against the Power, who are coming off a shock loss to crosstown rival Adelaide.
"If you're getting off to a poor start, it just puts you on the back foot," Colyer said at the True Value Solar Centre in Tullamarine on Tuesday morning.
"From there we played some quite consistent footy for the rest of the game … and it was credit to us that we were able to stem that back in the second and third quarters.
"I don't think there's anything better than silencing a home crowd when you play interstate. To get an interstate win is even better, so we're pretty excited for it."
But Essendon's patchy form is a source of frustration for Colyer and his teammates.
With the Bombers sitting in 10th position on the ladder and a game outside the eight, Colyer said the clash against the Power shaped as crucial if his side wanted to join in September action.
"It's an important game for us if we want to be playing finals at the end of the year," he said.
"If we play at our best, like we did in patches against Geelong, I reckon we'll have a really good crack at them and we should come away with a win."
Colyer's personal form has in some ways mirrored that of his side.
After being brought into the side against Fremantle in round four the 22-year-old was dropped and forced to wait out an eight-week absence from the senior team.
He returned against the Crows in round 14 and his impressive two-goal, 19-possession display against the Cats is sure to keep him in favour for the time being.
Colyer, who is contracted until the end of next season, said keeping things simple had been essential in his turnaround.
"I've been in the system for five years, so I really wanted to know what I needed to be doing to get senior selection," Colyer said.
"It's just down to hard work and getting myself in the right mental frame to be playing each week. That's really what I put it down to - not worrying about one little mistake here or there and just having a crack and playing footy."
/* * * CONFIGURATION VARIABLES: EDIT BEFORE PASTING INTO YOUR WEBPAGE * * */ var disqus_shortname = 'essendonfc'; // required: replace example with your forum shortname /* * * DON'T EDIT BELOW THIS LINE * * */ (function() { var dsq = document.createElement('script'); dsq.type = 'text/javascript'; dsq.async = true; dsq.src = '//' + disqus_shortname + '.disqus.com/embed.js'; (document.getElementsByTagName('head')[0] || document.getElementsByTagName('body')[0]).appendChild(dsq); })();
comments powered by

Disqus