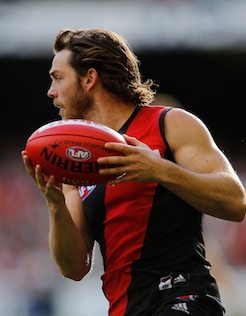 After an impressive finish to the season Travis Colyer and Zach Merrett are expected to form an impressive small forward combination over the next few years.
Merrett managed 20 games during his first season at AFL level with Colyer playing the final eleven matches of the season.
After early season injury struggles Colyer's fifth season in the red and black was by far his most consistent.
The 23-year-old averaged 17 disposals a game in 2014 but it was his decision making and improved ball use that saw him become a permanent fixture of the Bombers forward line.
Assistant coach Nathan Bassett is predicting a bright future for the 174cm speedster.
"Trav Colyer certainly added something to our group with his run and he is turning into a really smart footballer," Bassett said.
"I think he will take another step forward again next year."
"There was a chance he would be out of the AFL system at the end of next year but he now looks like someone who can play for us for the next seven to ten years."
Colyer worked in tandem with Merrett to apply intense forward pressure in the Bombers front half throughout the season.
Bassett said Merrett demonstrated he has the capabilities for a long career in the AFL system.
"Zach was a really solid footballer for us and he played some really good footy so he was not someone who was just out there for potential," Bassett said.
"He was out there because he was playing good footy, he is a beautiful kick, has some good speed and his pressure was excellent."
"He really adds some high intensity to our forward group and I think he will learn a bit more about getting into scoring positions."
Basset said Colyer's determination and strong work ethic would hold him in good stead as he looked to develop his game.
"I was rapt with his year, his attitude was terrific and he has some excellent strengths," he said.
"He has continued to improve his weaknesses to a standard that gives him the opportunity to be a good contributor for us."
"I think he will get better again next year."
Western Australian born Colyer has played 46 games at AFL level and will be looking to cement his spot from round one next season.
He is set to be a strong candidate for the Most Improved award to be handed out at the Crichton Medal on October 1.
Merrett is also expected to take out the best first year player award when the events evening is held at Crown Palladium.