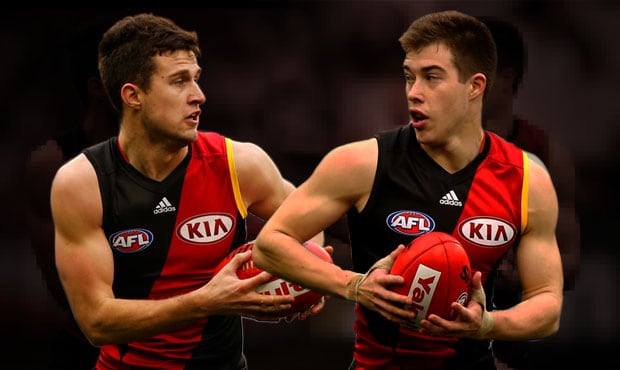 The Merrett brothers used to play football together in their family backyard growing up. Now they are making a name for themselves on the AFL field.
Growing up in Cobden, located 210km southwest of Melbourne and with a population of just over 1500, the two brothers spent their childhood playing against each other in a variety of sports, with the backyard competition often heating up.
"Cricket probably caused more grief," revealed older brother Jackson.
"I think Zach wrapped a cricket bat around my head once, that's about as bad as it got."
They may have grown up together, but the brothers both had a very different journey to get to Essendon.
Older brother Jackson arrived at Essendon following the 2011 National Draft where the club recruited him from the Geelong Falcons as a smart, powerful player capable of playing in both the midfield and forward.
While football was a priority for Jackson, who would travel an hour and a half each way to the Geelong Falcons for training, Zach would have to make the decision between playing cricket or following in his brother's foot-steps and playing football.
Thankfully, Zach would choose the latter, playing an integral role for the Sandringham Dragons before joining Jackson after the club selected him with pick No.26 in the 2013 National Draft.

"Leading up to the draft I was in the recruiters room everyday asking what they thought of Zach," Jackson said.
"It was very exciting when his name got read out to come to Essendon."
Football has always been very much a family affair for the Merretts, with their parents playing an important role in their development as juniors.
"Dad would do anything for me and Zach," Jackson said.
"He used to umpire me as a junior and I think he even coached Zach as a junior."
"Mums definitely our number one fan," Zach said.
"I think she gives us the most advice and it's very good to see her smile when she sees us play."
Renown for their hard work around the club, the brothers are finally getting some recognition in the wider AFL community for their talent and work ethic on the field.
It also has their fellow teammates and coaches excited about the future of the club.
"Zach Merrett and Jackson Merrett, those two have really developed this year," said captain Dyson Heppell when asked about the two.
"Their work ethic at training and the way they want to learn has been outstanding."
Now benefitting immensly from regular game time, the two are enjoying the new energy that a youthful side has brought to the club.
"The first 50 games is a bit of a learning experience," Jackson said.
"I'm just rapt to get there and play as many games a I can.
"We've got a few younger players playing at the moment, so it's just a good energy around the club as well."
Regardless of who you ask it is clear that the Merretts will become an even more important asset to the club in the coming years. With both committing to new contracts this year, they will remain a part of the Essendon fabric for years to come.
So far in 2015:
| | | |
| --- | --- | --- |
| Jackson | Stat | Zach |
| 8 | Games Played | 15 |
| 62 | Kicks | 159 |
| 37 | H'Balls | 171 |
| 71.7 | Disp. Eff % | 72.4 |
| 35 | Tackles | 80 |
| 30 | Marks | 56 |
| 6 | Goals | 2 |