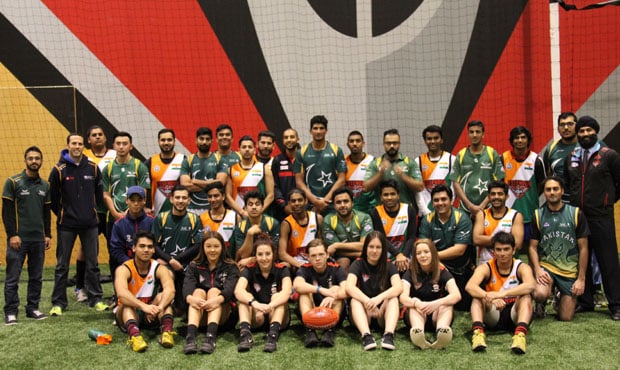 It's normally the scene of elite performance and the unyielding search for excellence, but last night it was a place of unity.
The Hangar at the True Value Solar Centre played host to the Bharat Bombers and the Pakistan Shaheens, with the teams competing in a friendly AFL 9's match.
The game served as important preparation for next month's Dosti (friendship) Cup, but it was also a chance to bring people together.
The players come from different backgrounds but they are united by the game.
Students, tradesmen and office workers all came together post match and enjoyed a meal provided to them by 'Curry Truck' where much friendly banter was shared about the game.
"Both teams played in great spirits with many acts of sportsmanship shown on the night," Essendon's Multicultural Development Officer Salim Mahazi said.
"The umpires did a fantastic job and everyone involved really showed a great appreciation for the work the club is doing within both the Indian and other surrounding multicultural communities."
For the record, the Pakistan Shaheens won comfortably (84-36).
"The Shaheens were the better team on the night, but it was definitely a good learning curve for our boys to find out where we are at and what we need to work on," Essendon's Indian Content Producer and Coach of the Bharat Bombers Amandeep Singh said.
"We will go back to the drawing board and look to come out firing on the 29th August the next time we meet."