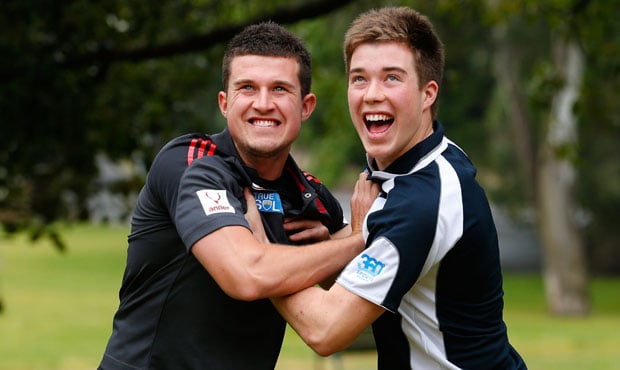 Essendon could look to Cobden exports Jackson and Zach Merrett for leadership in the 2016 season.
Jackson Merrett was drafted with pick 31 in the 2011 National Draft and has gone on to play 43 games as a midfielder/forward, including 15 games last year where he averaged 12.6 disposals, 3.9 marks 3.1 tackles and kicked eight goals.
Jackson said he was ready to take the next step in his career.
"I was one of the oldest in the forward line group after everything that has happened," he said.
"It's a good opportunity to stand up and fill a leadership gap."
After battling with injury at times, the 22 year-old played the last 11 games of the 2015 season.
"I feel good at the minute, touch wood," he said.
"I've got through the pre-season and hopefully I can continue to get through ahead of round one."
Jackson said he was keen to cement a spot in Essendon's best side.
"That's my biggest goal, playing 22 games in the home and away season," he said.
"It's all about building a foundation in the pre-season and having trust in your body.
"Then to go out and put in some consistent performances and make it too hard for the match committee not to pick you."
In light of the bans handed down to Essendon at the beginning of the year, the AFL determined Essendon could upgrade all of its five rookie listed players to the senior list, with the Bombers granted the ability to sign up to 10 extra players to its list that were not currently on an AFL list.
Jackson said his goal was to spend more time in the midfield in the absence of players such as Jobe Watson and Dyson Heppell.
"I played in the forward line the last three seasons, so I've been working around my versatility so I can spend more time in the midfield and on the wing," he said.
"I'd started training this pre-season with the forwards, but lately I've spent most of my time with the midfielders.
"I'd love to move into the midfield or on a wing with a bit more freedom and also work on winning contested ball."
Jackson said Mark 'Bomber' Thompson had been his biggest mentor in the first few years, with line coach Nathan Bassett helping him recently.
In terms of performances, Jackson rates his 35-possession game against Carlton in 2014, along with his second AFL game against Adelaide, where he collected 11 contested disposals, as his two best games.
Jackson said having grown up alongside his brother and then being at the same AFL club had been special.
"It's been good, we live together at the minute, so we see each other regularly," he said.
"We're able to bounce ideas off each other, and it's also easier for the parents to visit or when we head back home."
Now in his fifth pre-season, Jackson said he has been able to adapt to the rigours of pre-season training, but new coach John Worsfold has also brought about change.
"I think each season you progress and it gets a little easier," he said.
"You manage your body a bit better as well.
"In saying that though, it's been quite a solid pre-season.
"John has come in and changed a few things so it's been good."
Zach Merrett became an immediate hit at the Bombers, with 20 games in his debut season after being taken at pick 26 in the 2013 National Draft.
With an additional 17 games under his belt last season, the 20 year-old is already cemented in the Bombers' best 22.
In 2015, Zach averaged 22.4 disposals, 3.5 marks, 5.8 tackles and kicked four goals.
An injury late in the season ruled the 20 year-old out of the last six games, but he is determined to improve on his game total in 2016.
Zach said he did not want to look back on his ability to play so many games at a tender age, but instead try and improve.
"The first year you try and find your feet and find out where you fit in," he said.
"AFL is a lifestyle and I just tried to find my feet and hopefully embark on a long and successful career.
"I wanted to put my footprint on the Club and the league.
"So far, you don't reflect just yet, you just want to improve and keep getting better.
"But I've been excited to play that many games in the two seasons."
Zach was keen to join his brother in helping lead the younger players, but his role for season 2016 was yet to be identified.
"Having a lot of senior players out there will be a leadership opening and I want to be able to help with that," he said.
"But we still have to see what players come into the Club with which spots need to be filled.
"I'll find out more when we start playing NAB Cup games."
With 10 or more tackles in three games throughout his 37-game career, Zach said he had a simple desire to win the football.
"Obviously I just like to put pressure on the footy and try and win it back," he said.
"It's a lot more fun to attack than defend."
Both boys have been focusing on life outside of football with Jackson studying a Diploma of Business and Zach working through a Bachelor of Business at RMIT.
In light of the suspensions, Essendon has been placed favourites for the wooden spoon this season, but the brothers believe the players will have something to say about that.
"I think we might prove quite a few people wrong," Jackson said.
"It's a good opportunity to build games into young kids, but looking at the signings we've already made, they are experienced and have a lot of success at other clubs.
"There's no doubt the boys are excited and until we are no longer a mathematical chance to make the eight, we're a chance and we'll give it a red hot crack."
As for a message to local future AFL stars, the brothers said it came down to hard work and discipline.
"Whilst you're young, you've got to enjoy football, have fun and enjoy playing with your mates," Jackson said.
"But once you get to a certain age, you begin to make representative sides and you have to begin to really knuckle down and make a commitment.
"It's your best opportunity.
"You might sacrifice a year or two of going to parties, but it will pay off in the long run."
The views in this article are those of the author and not necessarily those of the AFL or its clubs