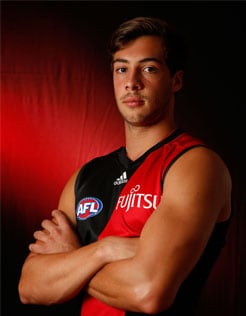 Kyle Langford would have gained a lot from playing on Patrick Dangerfield on the weekend, according to Coach John Worsfold.
Langford played his first full game playing in the midfield during the team's loss to the Cats.
Normally a feature across the Bombers' half-forward line, Langford has built on his fitness to the point where he is now capable of playing extended minutes in the middle of the ground.
The 20-year-old was given the hard task of playing on Dangerfield on Saturday, and saw first hand what is required to be one of the elite midfielders.
"For Langford to play just about a full game opposed to Dangerfield, you can't buy that experience," Worsfold said.
"He's unlikely to get that sort of experience again this year.
"He might get a bit of it next week, but that's a great learning curve for him to be getting that amount of time through the midfield and matched up on one of the stars of the game."
Worsfold spoke positively about the youngster's output following the game, stating the time spent in the midfield would be a worthwhile exercise for Langford.
Finishing with 11 possessions for the day, Langford showed potential collecting three clearances and one centre clearance.
"I was excited by Langford," Worsfold said.
"A number of times he got his hands on the footy around the stoppage against a really quality midfield."