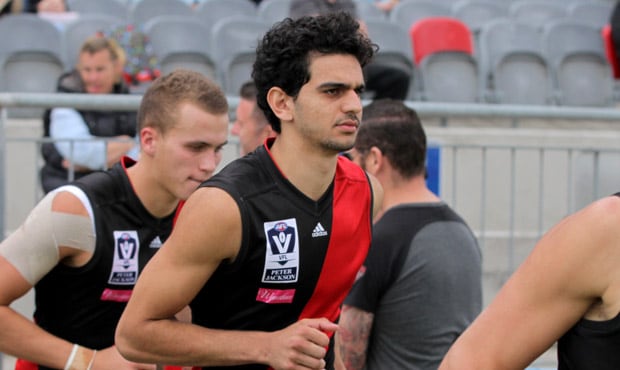 Essendon VFL has gone down to a dominant Footscray VFL in its second practice match.
The Dogs were too good for a young Essendon side running out 53-point winners.
Despite the loss, there were plenty of positives for fans to take out of the game with some of the Essendon listed players showing plenty of promise.
"The first half was really disappointing," Egan said following the game.
"I thought that we were really reactive again to the opposition and unable to restrict their quick turnovers and goals, and we were unable to get our defenders back in transition.
"We saw some real positives in the second half though, and we adjusted pretty well.
"Our intent was much better around the ball, we were able to win more clearances and just get our hands on the ball and get it moving our way.
"It was good to see the change in the second half."
Conor McKenna, Will Hams and Jake Long all continued their good form from the previous game against Geelong VFL, making solid contributions throughout the game.
It was a particularly impressive game from Jake Long, who has continued to excel so far this pre-season.
The youngster showed class with his 21-dispoals and four tackles.
Michael Hartley also had a strong game in the backline after narrowly missing out on selection for the Round 1 game against the Suns.
The defender stood tall under constant pressure, taking several important marks and rebounding from the defensive 50 well.
There were plenty of promising signs from the VFL listed players with Peart, Heavyside, McNiece and Dobson all playing well.
Egan and his coaching team will be looking for a better performance this week when they take on Richmond VFL on Friday afternoon.
It will be the last game for Essendon VFL before the start of the regular season with Egan and the coaching team looking to give players as much game time as possible.
"We had a fair few players with limited game time and we also had eight on the bench this week," Egan said.
"So next week we'll cut that back down to four or five and just really prepare ourselves for the start of the season.
"Players will have much more game time next week to try and finish off the huge pre-season."
Best: Long, McKenna, Hams, Dobson, Peart, Hartley
Goals: 2 Dobson, Edwards, Grimley, McKenna, Hams, Heavyside, J. Langford
Footscray 4.5. 11.9 15.12 16.12 (108)
Essendon 2.1 3.4 5.5 8.7 (55)