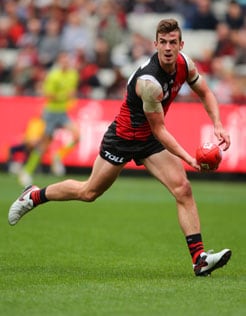 We scrap, we fight, we bring the heat and it works out well for us.
Michael Hartley
Essendon's back six may not be the biggest or the strongest, but what they may lack in these areas – they more than make up for in endeavour and hard work.
The 2016 season was never going to be a walk in the park for Essendon's backline.
Missing the big contributors in Michael Hurley, Cale Hooker and Michael Hibberd immediately made the task harder.
However, under the guidance and experience of Mark Baguley and James Gwilt, the Bombers new back six are making a name for themselves.
The experienced backs have been joined by a host of new faces including ex-Pie Michael Hartley.
The Bombers took Hartley with their last pick in the 2015 National Draft, providing another twist in the 22-year old's football journey.
Having spent two years on the Collingwood list, Hartley was delisted after two injury riddled years.
He spent the next two years playing with Coburg in the VFL, not yet ready to give up on his AFL dream but well aware of the hard work that he would have to put in to return to the top level.
Hartley spent his days working full-time running around medical supplies at a Hospital before heading to training at Coburg.
Rinse and repeat over the next two years.
"I had full time job working at a hospital and I did that everyday," Hartley told Bomber Radio.
"It was very boring and I hated every minute of it.
"It paid the bills and got me here really.
"When I was at Collingwood, I think that I really took it all for granted.
"This was an AFL lifestyle and I took that for granted.
"Now coming back, getting back into the AFL, I'm going to hold onto it and work a little bit more."
The hard work Hartley has done was most evident over the weekend, when he managed to keep Geelong's power forward, Tom Hawkins, goalless.
The feat saw him named in the AFL 'Team of the Round' and earn praise from his Coaches – despite only collecting four disposals for the day.
Modest of his own performance, Hartley was quick to highlight the team first mentality the backline has developed in a short amount of time.
Hartley praised the efforts of his teammates, believing they are some of the hardest working players he has played alongside.
"We're a pretty small group, we're not the biggest guys going around," Hartley said.
"We all help out a bit and I think we're working really well.
"I don't want to talk the boys down, but we're not the best backline going around. We're scrappers and that works well for us.
"We scrap, we fight, we bring the heat and it works out well for us."
Hartley's hardworking on-field attitude is well balanced by an easy going, no stress attitude away from the field.
He has quickly become a favourite among the fans and his teammates, always willing to have a joke or a chat.
Hartley's friendship with another much loved Bomber, 'Walla', has caught the attention of many fans with the two seeming inseperable.
"My first game I just asked him if he wanted to have a kick," Hartley said.
"We've just done it from there on.
"Walla is a good fella, he looks after me on game day.
"I just like a kick with him."
Happy day of birth to my bro @Tipungwuti #tipart https://t.co/Ofqpup5IiU

— Michael Hartley (@MichaelHarts47) April 22, 2016
This Monday, Michael Hartley will have his chance to not only run out on what is one of the biggest games on the AFL stage, but it will also be the first time he comes up against his old teammates.
Rather than being nervous, the defender is looking forward to the challenge and is hoping for one match-up in particular.
"Hopefully (Cloke) plays, because I'd love to play on him," he said.
"I'll just go out there and play my game and see what happens.
"It'll be awesome to be out there and actually play, I can't wait."