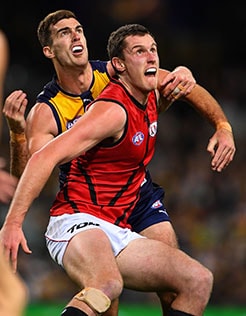 Essendon faces the prospect of facing St Kilda on Sunday without either of its best ruckmen after Mark Jamar and Matthew Leuenberger were injured during the club's 78-point loss to West Coast.
Jamar, who was also reported for striking Eagles defender Jeremy McGovern, left the ground early in the second half with a hamstring injury.
Coach John Worsfold said he didn't expect Jamar would be available, while it was "unlikely" Leuenberger would recover from a knee injury that saw him limp through the second half of the game at Domain Stadium.
Worsfold said the club had other options and he was loath to force emerging star Joe Daniher to ruck for long periods.
"We've got Sam Michael or Shaun McKernan both in the VFL on the weekend, so they're the two," he said.
"Our other developing ruckman Gach Nyuon is a rookie-listed player who is very much raw, so most likely one of the other two.
Worsfold said he was disappointed with the way his side wilted in the second half against West Coast, a team that has developed a reputation for running over the top of lesser sides in Perth.
"For three quarters, maybe two-and-a-half quarters, they did everything that they expect from each other and I thought it was really outstanding the way they took the game up to West Coast," Worsfold said.
"But we have to be accountable for the way we couldn't stop them in the last quarter, the way we couldn't get our hands on the footy and really our pressure on them was non-existent."
The Bombers coach said Essendon's injuries were starting to take their toll.
He also said it was too early to start making decisions on players for next year, though he would likely try to tempt James Kelly to play on.
"We need to just keep learning and challenging ourselves to guts it out," he said.
"The second half of the year is going to be even tougher than the first half, there's no doubt about that with some of the injuries we've now got. So, I'm really keen to see how we can all be courageous in fighting through it and try to maintain our energy and our effort for as long as we can."
Worsfold also said he had taken David Zaharakis and Jamar to task for off-the-ball incidents that led to free kicks for West Coast. Jamar was reported during his incident, in which he lashed out at Jeremy McGovern.
"I asked the players if they felt better after those incidents and giving a free kick away against their teammates and you can imagine the response I got," Worsfold said.
"We got beaten in that area for discipline and mental toughness and that's disappointing as well."