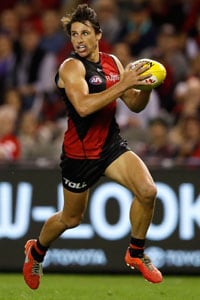 Mark Baguley expects to take part in full training when the Bombers begin their pre-season campaign later this year.
The Essendon Vice-Captain has been sidelined since June with a knee problem.
He underwent surgery and fitness staff opted for a slow and steady recovery schedule.
Baguley has undergone a rehabilitation program that has included cycling and swimming before he stepped it up in recent weeks to involve leg weights and squats.
This week he resumed running.
"With us not playing finals, they were a bit cautious with it and gave it a bit longer to recover," Baguley told Bomber Radio.
"At the moment everything is going well and I should be right for day one of pre-season and should get a fair bit of running in over the off-season."
Baguley played ten games this season, including some in attack.
The former Frankston VFL player has made his name in the Essendon defence sine making his debut in 2012.
But he was shifted to attack for games against Sydney and St Kilda.
"I think it was just a bit of an experiment playing forward for a couple of games," he said.
"I really enjoyed it, playing a different role. I even kicked a goal, which was pretty exciting; it's been a long time.
"But I do enjoy playing in the backline, I like it when the ball comes to you and you have a role to play to shut down a dangerous opposition forward, so I think the backline is best for me."
At 29, Baguley is nearing the end of his fifth AFL season. He was named Vice Captain for 2016 and has focused on helping the Club's wealth of young talent find their feet at senior level.
"It was under pretty unique circumstances with the guys getting suspended but not too much has changed," he said.
"I spoke to Woosha after I was elected into the leadership group and became Vice-Captain and he just said 'be yourself, that's why you got voted into the leadership group'.
"I try to lead because we've got a really young group at the moment and I'm just trying to help out the young guys that are starting their AFL careers."