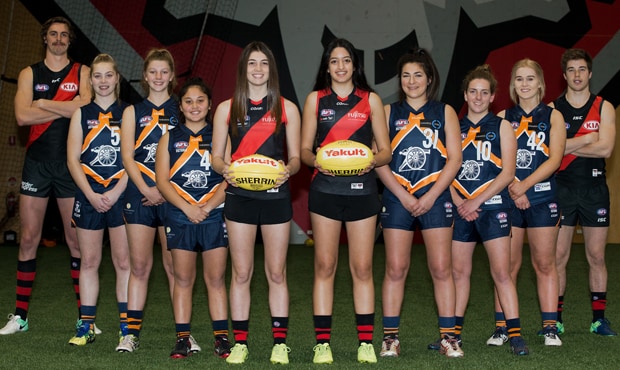 Essendon has taken the next important step towards entering the AFLW competition, announcing the Bombers plan to field a team in the VFLW competition in 2018.
The VFL team will train and play at Highgate Reserve in Craigieburn and includes a strong alignment with the Calder Canons Youth Girls Academy Program.
Essendon CEO Xavier Campbell said the introduction of an elite team in the region fills an important pathway gap for female footballers.
"This is a really significant and important step towards Essendon entering the AFLW competition," Campbell said.
"There is an abundance of talent in this region and an Essendon VFL team supports the club's influence on the football pathway, from grassroots to our future AFLW team.
"Our academies programs in the North West of Melbourne, Tiwi Islands and West Arnhem Land have been structured to influence and enable all aspects of the system that grows, develops and nurtures female footballers.
"Underpinned through strong working relationships with AFL Vic, AFL NT and the Calder Cannons, our VFL Women's team will provide an important aspiration for local girls playing junior football and our home grown talent will now be able to continue their football pathway locally at Highgate Reserve."
Calder Cannons Talent Manager Ian Kyte said the introduction of an Essendon VFL team in the North West corridor of Melbourne would add significant value to the growth of the game and development of female footballers.
"For female athletes and talent in the Calder region this will now complete the pathway and provide a team at their back door where they can aspire to reach the highest level as professional footballers," Kyte said.
"To have role models for all participants is the final piece of the puzzle, finishing the ongoing development work that has existed in close consultation with the Calder Cannons across all ages for the past 23 years.
"It is with great excitement that everyone at the Calder Cannons look forward to seeing the Black and Red sash of the Essendon Football Club take the field in the 2018 VFLW Season as a precurser to gaining an AFLW license."
Essendon will make a final presentation to the AFL on Friday as part of its Two Pathways, One Dream submission for an AFLW license in 2019.