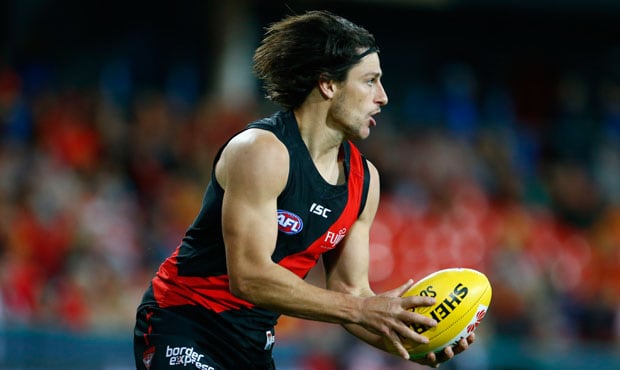 The Best Team Player on Crichton Medal night is named after Bruce Heymanson.
Bruce was an Essendon Life Member, Number One Ticket Holder and member of the Hall of Fame.
The award recognises a player who puts others before himself, lives and breathes Club values and enhances the culture of the Club.
Orazio Fantasia won the award last season, while Dyson Heppell has won the award four times throughout his career.
Here are some of the players who may be in contention for the award when it is presented during Thursday night's Crichton Medal.
Dyson Heppell
Given his history in this award, Heppell will certainly be a strong contender for his fifth Best Team Player award. The first year Captain led the side back to the finals for the first time since 2014. He played every match and averaged 26 possessions per game.
David Myers
The 28 year old is highly regarded by the Bombers for his leadership ability. After missing the opening of the season with a finger injury, Myers returned and played six straight games. But not content with his form, Myers requested some time the VFL. After two dominant displays, he returned to the senior side and remained there for the rest of the season.
Andrew McGrath
The number one draft pick spent most of his first season in defence. He lined up on some of the best small forwards in the competition and more than held his own. McGrath's dominant performance against Eddie Betts in round 21 was one of his standout displays.
Brent Stanton
The veteran played his 250th match early in the season but spent most of the year in the VFL. A prolific ball winner throughout much of his career, Stanton played a selfless role at VFL level that allowed younger teammates to spend more time in key roles.
Heath Hocking
Like Stanton, Hocking spent most of the season at VFL level, but his two goals against Fremantle in round 23 were crucial in propelling the AFL side into the finals. Hocking received praise from the VFL coaches for his leadership throughout the season.
Mark Baguley
After missing the second half of the 2016 season, Baguley played 22 games in 2017 and showed he's lost none of his aggression and discipline that have been hallmarks of his game throughout his career. Baguley played a key shut down role in defence and was always willing to put his body on the line.