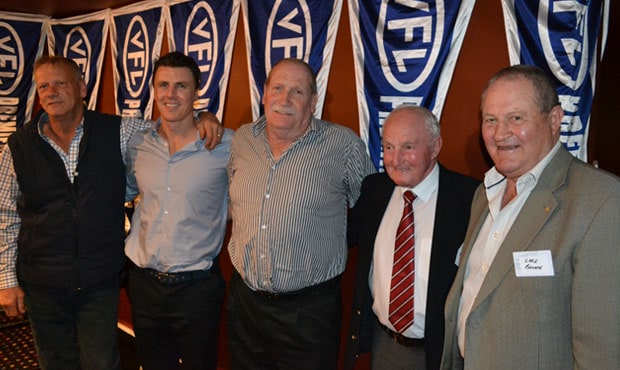 Almost 200 members of the Past Players and Officials Association have gathered to celebrate their connection with the Bombers.
Premiership stars, cult heroes and fan favourites were in attendance for the Past Players Annual Dinner.
The event is run by the Essendon Past Players and Officials Association which has 412 members across Australia and is widely regarded as the leading Past Players and Officials Association among the AFL clubs.
David Collins is the Secretary of the Past Players and Officials Association and provided this account of the Past Players Annual Dinner:
Two time premiership Captain Terry Daniher did another outstanding job as MC at this year's past Player Annual Dinner at the Windy Hill Social Club. Nearly 200 members and guests attended this year's event. Never one to stick to the running sheet, Terry delighted all those present with his impromptu interviews of Jobe Watson, who was attending his first Annual Dinner, and Tony Buhagiar who had travelled over from Perth for the event. Terry's unique interviewing style not only had the audience in raptures but the interviewees as well.
EFC Chairman Lindsay Tanner was once again in attendance at this year's dinner along with Board Members Catherine Lio and Simon Madden. A large number of representatives from other AFL Past Player Associations also attended.
Another highlight in proceedings was the presentation of three Debut Guernsey presentations. Mark Harvey presented Matthew Lloyd with his Debut Guernsey and whilst recognising Matthew's outstanding playing career and his leadership ability, did his best to inform the audience of some colourful but largely unknown incidents from Matthew's past. Despite how good Mark's presentation, Matthew responded with a brilliant acceptance speech which was appreciated by all present. Garry Grainger presented 100 game player from the late 60's and early 70's, Peter Daniel with his Debut Guernsey. Both managed to provide some great insights from not only their on field actions but also some notable off field activities. The third Debut Guernsey was for Ron Kennedy and accepted by Ron's nephew, Robert Horgan. Ron passed away some time ago and before his Debut Guernsey had been presented to him. Ron's family had asked whether it was possible to obtain Ron's Debut Guernsey. Association President Barry Capuano arranged for a surprise presentation on the night with a number of Ron's family in attendance. The presentation was very well received by all in attendance.
Others who travelled from interstate for the function included Gary O'Donnell, Matthew Banks and Tony Buhagiar (all from Perth), Angus Monfries and Andrew Underwood (Adelaide), Geoff Gosper (Tweed Heads) and Peter Daniel (Launceston).
Our comedian this year was none other than Lawrence Mooney. Lawrence is a lifelong Essendon fan was in his element on stage where he thoroughly entertained all present with his jokes, repartee and brilliant impersonations.
The playing number 18 has always been highly valued by the Essendon Football Club and the attached picture gives you some indication why that is so. In the picture taken at this year's dinner, are some great names in the history of Essendon including Paul Vander Haar, Matthew Lloyd, Barry Grinter, Reg Burgess and Greg Brown.
This event continues to grow year by year and is a real highlight. It's readily apparent to all present just how strong the bonds are that have been built up over the years and clearly demonstrates the strength of this part of the Essendon Football Club. The Association now has 412 members across Australia.