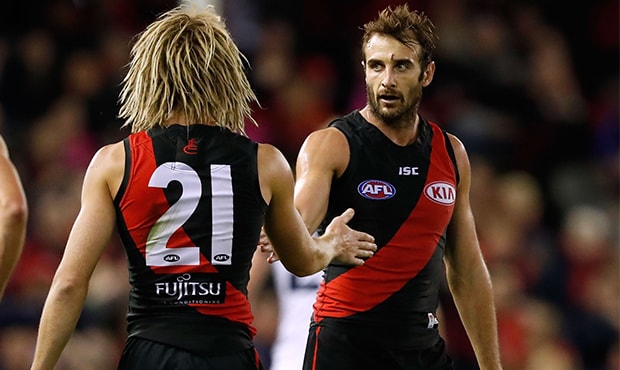 The now-retired 32-year-old captained Essendon between 2010 and 2015, but coach John Worsfold handed the role to Dyson Heppell this season after Brendon Goddard had stepped in for the 2016 campaign.
He told Exclusive Insight that he held it together to remain as captain and provide support for teammates because it was "the right thing to do".
"I really knew I didn't want to be the captain anymore, because I just didn't want to have to handle all those responsibilities," Watson said.
"When I was going through it, it was really tough, but I thought, 'I've just got to keep going'.
"It's really important the person they look to, in a sense of leadership, doesn't just give up and still keeps guiding and keeps helping and is their person they can rely on."
Watson, who remained in the Bombers' leadership group in what was the final season of his 220-game career, said the inner drive to be captain was no longer there heading into 2017.
He took a conscious step back to enable Heppell to flourish in his new position, but still made himself available to those who sought his guidance.
"I think what I was, was really honest with myself," Watson said.
"I sat down and said, 'I'm not going to do the right job, because I know what the level of requirement is for the job and I don't have that motivation to do it'. So, the right thing and responsible thing … is to give it to someone else who will do it.
"I felt a lot freer because of that, but it probably stemmed from having a really honest conversation with myself, and in the end, it's the same thing as retirement – if you know deep down that you don't want to do it, then you can't lie to yourself."
Watson said Essendon was well served with leaders under Heppell, including vice-captains Cale Hooker and Zach Merrett, as well as players like Goddard, Michael Hurley, Joe Daniher and Orazio Fantasia.