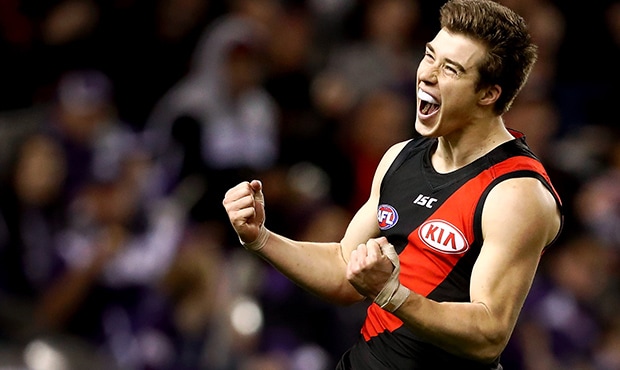 It was dubbed the 'comeback story' for the Bombers in 2017. Not only did they make the finals, they had a range of players produce positive AFL Fantasy returns.
Veteran Brendon Goddard (MID, $716,000) averaged 101.7, his best since 2013 while David Zaharakis (MID, $702,000) enjoyed his best season with an average of 99.7. Up forward Joe Daniher (FWD, $597,000) stamped his dominance on the competition improving his average by 13 points.
One of the highlights of the returning players was Michael Hurley (DEF, $663,000). After a season on the sidelines, he averaged 94.2 points finishing the year averaging 104 during the last nine rounds. Look out for him to be in the mix once again as one of the best defenders.
With some impressive recruiting during the off-season, the Bombers will be hoping to add another exciting chapter to their story and Fantasy coaches will be hoping big Fantasy numbers are part of the plot in 2018.
Zach Merrett (MID, $825,000) broke out in a big way in 2016, falling only a handful of points short of Patrick Dangerfield to be the second-highest averaging player of the year. Some coaches approached 2017 with trepidation as that breakout saw his average increase by an astonishing 27 points.
The 22-year-old backed up his outstanding third season to once again average 117.
The changing dynamic of the Essendon midfield could be of concern, but they can be alleviated as the same conversation was had at this time last year when the banned Bombers returned from their 12-month exile. Merrett will be one of the top performing midfielders. You should be taking him in the first few picks in Fantasy Draft and whether you start him or not in Fantasy Classic, he'll be a must-have come season's end.
As the first overall pick in the 2016 NAB AFL Draft selection, Andrew McGrath (DEF, $496,000) was ready to go in his debut season. Twenty games at an average of 71 was a fantastic return for those happy to pay the initial premium price for him.
Plying his trade in defence, McGrath is likely to become a midfielder over time. If this becomes sooner rather than later, expect improvement this season.
Heading into his third season, Darcy Parish (MID/FWD, $551,000) has added forward status for the upcoming year.
With averages of 74 and 78 in his first two campaigns, Parish has been building his running capacity this pre-season in order to keep pace with the competition's best midfielders. It would be a big move to pay those dollars for him in Classic, but consider him a potential Draft bolter.
The most Fantasy relevant acquisition for the Bombers during the NAB AFL Trade Period was Devon Smith (FWD, $575,000). The former Giant will be donning the sash in 2018 with a hope to gain the midfield minutes he has been starved as being a member of one of the most talented lists in the competition.
Played as a small forward at the AFL's newest club, Smith has been recruited to Essendon to be more of a midfielder-forward type player.
In his third season, Smith averaged a career high 94 from 21 games. He kicked 26 goals for the season and averaged 22 disposals with five tackles per game. This included top scores of 147, 137, 133 and 128. In the three years since then Smith has knocked out season averages in the 80s and has battled knee injuries.
With opportunity for midfield time, Smith can once again average in the mid-90s and be in the mix as one of the top available forwards in Fantasy.
The Bombers traded away their early picks so we are best to look at players yet to debut. Kobe Mutch (MID, $170,000) and Dylan Clarke (MID/FWD, $170,000) have been waiting in the wings for 12 months and if given opportunity, bring in the basement priced cash cows.
Mutch averaged 85 points from 18 games in the VFL last year. As a junior he averaged 129 Fantasy points in his final TAC Cup season and racked up 122 points per 120 minutes at the NAB Under 18 Championships in 2016.
Also playing 18 games in the VFL was Clarke where he averaged 77 points. The 19-year-old averaged 121 at TAC Cup level and 107 per 120 minutes at the Under 18 Championships.
Heading to Bomberland from the Kennel, Jake Stringer (FWD, $403,000) was on the verge of being a very relevant Fantasy option following his third season. He played 21 games in 2015 at an average of 76. Since then his numbers have dropped to an average of 57 last year.
Stringer's best season saw him kick 52 goals, which is something that he is unlikely to repeat judging by the make-up of the Bombers' forward line. However, being priced at 57 is well under if he is given a licence to run up the ground and pick up a few extra mark-kick plus sixes.