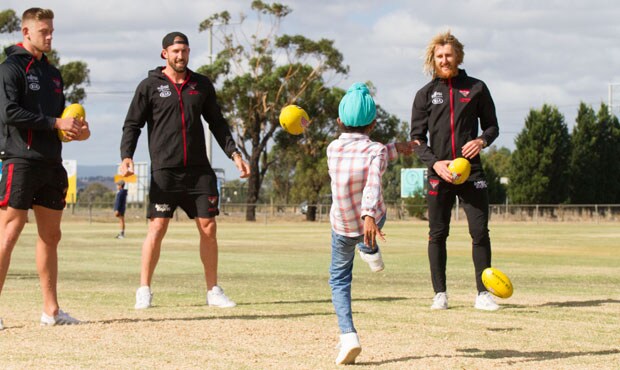 Six years after establishing an Essendon-supported Auskick program in Craigieburn, the Hume Bombers will field two all-Indian junior teams in the Essendon District Football League in 2018.
Essendon's commitment to multiculturalism and developing the game in the north-west metropolitan region has seen the Auskick participation rates at the Craigieburn Indian community climb year on year since recording 30 participants in its flagship year of 2012.
The founding of an Under 9s and an Under 13s Hume Bombers team is set to give the fledgling players their first taste of competitive football.
Essendon Multicultural Programs Officer Sudip Chakraborty says the establishment of the Hume Bombers is a testament to six years of work between the club and the Indian community.
"The important thing is getting multicultural people involved but to do it not just to Australian culture, but their way," Charkraborty said at the Hume Bombers' season launch.
"It can be difficult for migrating cultures, so this helps the integration to be a two-way stream.
"I feel Essendon is a major leader in this area of work in the community. Ten years from now, we want to see these kids playing AFL."
For inaugural Hume Bombers' President and two-time AFL Community Multicultural Ambassador Award recipient Avtar Singh, having two junior teams at the Hume Bombers brings the Indian community one step closer to realising their dream of seeing their own players at the highest level.
"It was initially hard to bring footy to Indian culture – footy is very new," Singh said.
"In India, we have kabbadi, which is a form of wrestling, but there is nothing like the competitiveness of footy.
"We would love a superstar, a role model. The Hume Bombers will create more awareness, there'll be more happening and you only need one story.
"You have one story and a hundred kids will follow."
15 AFL players represented the club and ran skills sessions with the young players at the season launch, including Essendon Indian Ambassador Dyson Heppell.
"We're looking at more participation from kids at a younger level," the Bombers' captain said.
"The more we can get involved, the more talent we can see coming through."
Essendon has assisted in the development of an Australian Rules pathway for the north-west Indian community with the provision of community coaches, staff and clinics run by AFL players at the Auskick sessions.
In 2008, Essendon supported the Indian team at the International Cup and entered a team in the 2013 Unity Cup to represent both India and the Bombers.