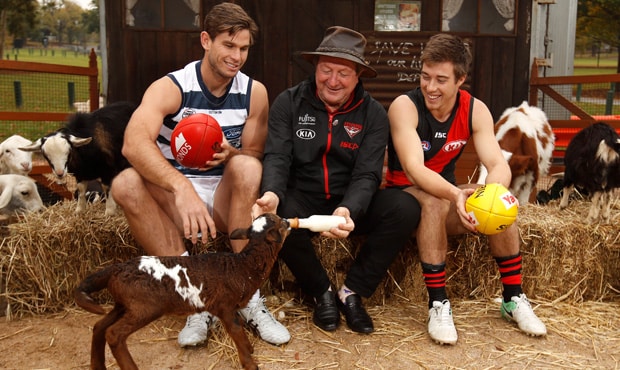 Footy fans are set to enjoy a massive celebration of the country this weekend with Yarra Park to be transformed into the Powercor Country Festival.
The free event features live music, farm animals, field shows, Deni Ute Muster, camel rides, dog shows, kids activities and a farmers market with over 50 stalls showcasing the best food and wine from across regional Victoria.
Legendary Australian rock band The Black Sorrows will be the headline act on the main stage at the live site along with performances from Aussie artists John Williamson, Michelle Gardiner and Darren Coggan.
Now in its third year, the Powercor Country Festival provides an opportunity to recognise and thank regional communities for the contribution they make to the game of AFL and to our nation.
In the build up to the blockbuster Round 9 match between Essendon and Geelong, Ballarat FNL and Goulburn Valley FNL will play a country curtain raiser on the MCG as part of the AFL Victoria Community Championships.
Prior to the bounce, regional volunteers will be honoured with the CFA forming a guard of honour for both teams entry to the field.
The CFA volunteers will also be involved in a special pre-match ceremony, with the players and umpires lining up for the unfurling a giant sized Australian Flag during a performance of 'Waltzing Matilda' from iconic Australian singer John Williamson.
Kevin Sheedy, mastermind of the country festival, said the event had become an experience not to be missed.
"The festival is building every year," Sheedy said.
"It is going to be a lot of fun, a real celebration of the country and wonderful opportunity for fans to come and experience something a bit different, a taste of the country in the city."
"To have iconic singer John Williamson on the MCG singing our unofficial national anthem, Waltzing Matilda, is going to be pretty special, I really hope all the fans in the stadium get behind it and sing along."
"This really is our opportunity as an industry to say thank you to our regional people, we love you, and you are the backbone of our country."
Essendon Chief Executive Xavier Campbell said football played an important role in regional communities
"We understand the role football plays in regional communities and the vehicle it provides for promoting positive role models, leadership and social inclusion," Campbell said.
"We are extremely proud of our involvement in the Powercor Country Festival, an important opportunity to highlight the significant contribution of regional communities to our country and to the game of AFL – both at a local level and also at the highest level.
"In building this game, we hope to use the power of football to highlight issues facing regional communities but also recognise the incredible resilience of country people and celebrate everything that is great about rural life.
"We are fortunate to have incredible support for this initiative, including Regional Development Victoria, Royal Agricultural Society of Victoria, Food and Wine Victoria, Country Fire Authority and AFL Victoria, organisations dedicated to investing, promoting and growing regional prosperity."
"Thank you to our partners, Case IH and our major partner, Powercor. There is no doubt about Powercor's commitment to regional communities across many platforms and we are very pleased to be partnering with them to continue to grow the Powercor Country Festival in 2018 and beyond."
Geelong Chief Executive Brian Cook is looking forward to seeing the Country Festival build into its third year.
"The Country Festival continues to build, and going into its third year, has developed immensely. "
"As a regional club, it makes sense for our club to be involved in the game alongside Essendon. Some of our great players hail from country areas, Tom Hawkins, Joel Selwood and Lachie Henderson all from country areas.
The support and contribution country communities continue to provide our club and the game of AFL is outstanding and we encourage all supporters of Geelong and Essendon to get to the MCG on Saturday, get involved in the festivities and celebrate the country."
Powercor CEO Tim Rourke said he was proud of the involvement Powercor has with the Country Festival.
"The Country Festival is a partnership that we're particularly proud of at Powercor. It's a real celebration of everything that country Victoria has to offer," Rourke said.
"It was created to help people pause for a moment and recognise and celebrate the huge role regional and rural Victorians – men and women – play in the success and prosperity of our State and the Nation more broadly.
"Many of our employees live and work in country Victoria and giving back to these regions is an integral part of what we do."
The Powercor Country Festival is proudly supported by a number of partners including Powercor, Case IH, Regional Development Victoria, Royal Agricultural Society of Victoria, Visit Victoria, City of Melbourne, Food and Wine Victoria, AFL, MCC, Country Fire Authority, AFL Victoria, Netball Victoria, Foodbank and The Food Purveyor.
Croc Media, the official media partner of the festival, will broadcast live from the farmers market throughout the day.
The Powercor Country Festival is a free event commencing at 1pm on Saturday May 19 in Yarra Park.
The festival includes:
- Live stage areas with entertainment across the afternoon
- Farmers Market featuring more than 50 stalls proudly supported by Regional Development Victoria
- Interactive footy activations from major partner Powercor
- Foodbank free fruit giveaway
- Farm animals, dogs shows, sheep shearing, camel rides and displays from the Royal Agricultural Society of Victoria
- Deni Ute Muster activation
- Tractor and machinery display from Case IH and Case Construction
- Kids activities including jumping castles, face painting and entertainment
- CFA fire trucks display
- Beer garden featuring wines from Treasury Wine Estates and beer from Colonial Brewing Co.
- Food trucks
You can buy tickets to the Country Game HERE.