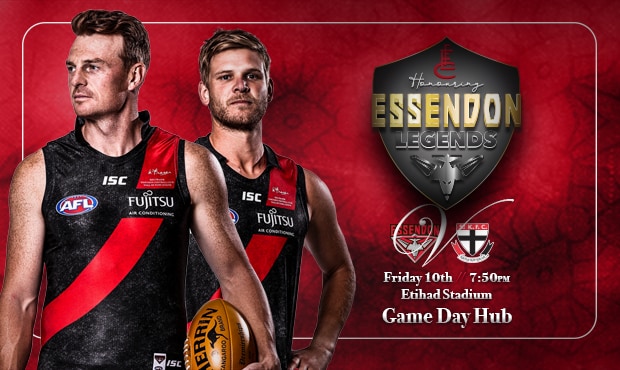 Round 21
Essendon v St Kilda
Friday 10th August, 7:50pm AEST
Etihad Stadium
Heritage Round - Honour Ken Fraser
Gates open: 5:00pm
A Legends match featuring past Essendon Heroes will feature pre-match on the ground from 5:15pm.

Gates open are 2, 4 , 5 (south), 6, 8 and 9. At this stage no additional food and beverage outlets are open but the garden gate bar is open with food trucks.
Supporters will be able to watch the curtain raiser anywhere on level 1 but will need to vacate and move to their assigned seat at the end of the match.
More information on the Legends game can be found here.
Free hot chocolate for kids under 16 located at gates 4 & 8 across all levels of the stadium.
Tickets can be purchased via Ticketmaster here.

Don the Sash with our latest range of merchandise from The Bomber Shop. Located at the Club Hub (outside Gate 5) and inside Gates 5 and 7, 2018 members receive a 10% discount off of full priced merchandise when you present your membership card.
You will be able to purchase your very own Heritage Guernsey honouring club legend, Ken Fraser, and we will have retro logo hoodies and t-shirts on hand to celebrate our history.

Membership will be located at the Gate 5 Club Hub from 5pm until Quarter Time, our staff will be able to assist with any membership enquiries or problems that may arise.

Click HERE for the full TV and radio Broadcast Guide.

Keep up-to-date on game day with our live coverage of the game on Twitter (@essendonfc) with the official hashtag #AFLDonsSaints and #DonTheSash.
Instagram: @essendonfc
Facebook: facebook.com/essendonfc
Snapchat: essendonfc