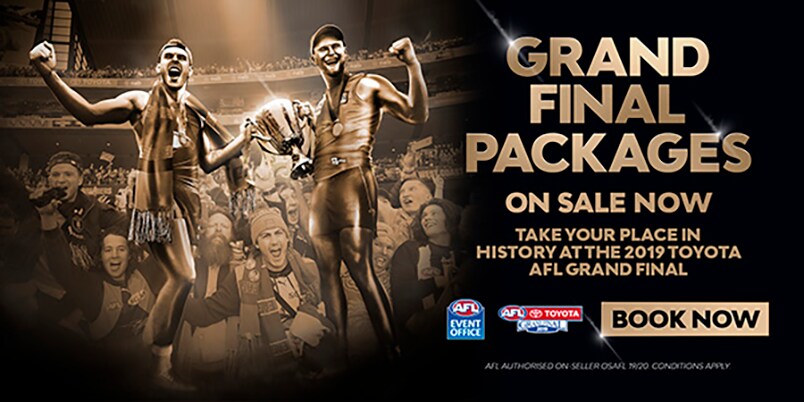 Take your place in history at the 2019 Toyota AFL Grand Final, with three premium packages still available below.
To purchase any package, please call (03) 8340 2000 or email hospitality@essendonfc.com.au
Essendon Football Club
Intended distribution of AFL Grand Final ticket allocation:
| | |
| --- | --- |
| CATEGORY | INTENDED ALLOCATION |
| Sponsors | 100 |
| Corporate | 82 |
| Staff | 18 |
| TOTAL | 200 |
As of 16 September 2019

Exclusive lunch at The Atlantic, Crown, featuring the game's top-tier AFL players and coaches. Chauffeur transfers to the MCG for a genuine money-can't-buy experience, before taking your premium reserved seat at the 2019 Toyota AFL Grand Final.
Price: Category 1 - $4,210
Lawn 27
Located on the doorstep of the MCG, Lawn 27 packages feature a pre-game, first-class hospitality experience which is complemented with the best available Category 1 reserved seating for the 2019 Toyota AFL Grand Final. Continue the fun and excitement as you return to Lawn 27 post-match to relive all the highlights of the game. You will be entertained with a variety of musical acts that will ensure Lawn 27 is the place to be on that 'One Day in September'. Book your Lawn 27 package today so you can be there to 'Witness Heroes Become Immortals'.
Package inclusions:
Category 1 reserved seat for the 2019 Toyota AFL Grand Final
Access to the spectacular Lawn 27 precinct pre-game and post-game
Gourmet cocktail food and premium wines, ales, spirits and a range of non-alcoholic beverages served in Lawn 27 pre and post game
First-class entertainment throughout the day including appearances by VIPs, media personalities and AFL talent
Complimentary copy of the Toyota AFL Grand Final edition of the AFL Record.
Price: $3,080 per person
Final Siren
Take your Toyota AFL Grand Final Day experience to the next level and celebrate at the AFL's newest post-match destination, the 'Final Siren'.
Held on the doorstep of the MCG at Melbourne Arena after the big game, guests will enjoy an evening of first-class entertainment and premium hospitality that celebrates the biggest day on the Australian sporting calendar.
Featuring live performances from renowned musical acts and inclusive of food & beverages, the 'Final Siren' delivers a party atmosphere that guests will enjoy well into the night.
The package includes your choice of Category 4 or 5, 2019 Toyota AFL Grand Final seating.
Package inclusions:
Guaranteed reserved seat for the 2019 Toyota AFL Grand Final.
Access to the 'Final Siren' party held at Melbourne Arena including:
Premium beverage service throughout the event including beer, cider, wine and soft drink
Substantial cocktail-style food options
Entertainment including The Voices Supergroup featuring Shannon Noll, Taxiride's Jason Singh, Dale Ryder of Boom Crash Opera and The Choirboys Mark Gable, supported by DJ and local performers
Price: Category 4 - $1,900 per person / Category 5 - $1,780 per person