Essendon coach John Worsfold has been chosen to mentor AFLW star Alicia Eva this year in an exciting new program aimed to strengthen the pathway for women to become senior coaches.
Eva was successful in beating off eight other applicants to receive the AFL Coaches & Lucky Chicken Eggs Coaching Pathway Scholarship, a key part of the inaugural AFLCA's Women's Coaching Crusade.
The Women's Coaching Crusade was launched in January to help AFLW players realise their potential and fast-track their development as coaches, especially given all senior coaches in the competition this year were men.
Worsfold's mentorship is central to the new scholarship, with Eva set to draw on the insights from the league's most experienced current coach for the next 12 months.
The premiership-winning coach said the program gives him an important opportunity to contribute to the next generation of coaches.
"I'm passionate about offering help to young people in the game," Worsfold said.
"I've been very fortunate with what the game has offered me through opportunities and people in the industry who have given me their time as mentors, or just someone to talk to."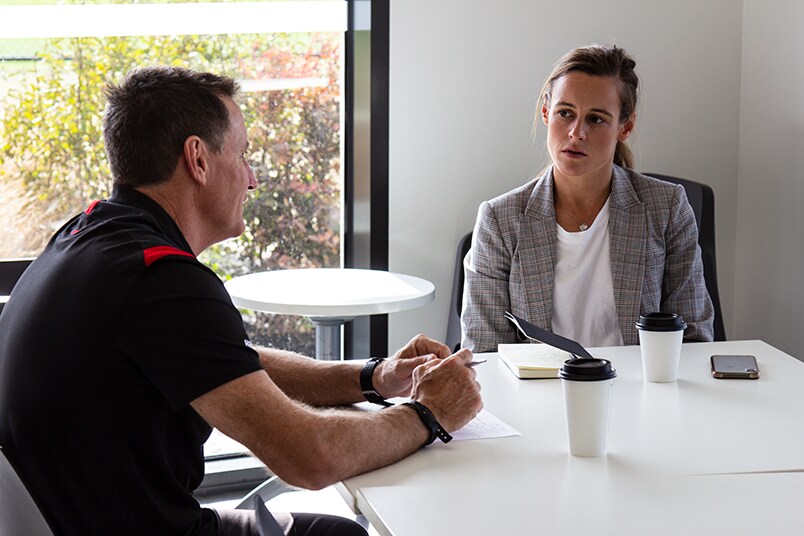 Eva joined Worsfold at The Hangar this week to kick off 12 months under his guidance. (Photo: Essendon FC)
Worsfold said he has benefitted greatly from the support of others during his coaching career, and his early impressions of Eva have been overwhelmingly positive.
"I've used mentors a lot in my 16 years as a coach, they have been so important to my development. Now to be someone experienced in the game, I want to give back.
"I met Alicia for the first time during the week, she's very impressive and I look forward to working with her, helping her get clear on where she wants to be and assisting her achieve the goals she sets for herself."
Eva will also receive a funded position to participate in the AFL Coaches Next Coach Program and a funded attendance on the annual AFL Coaches US Study Tour.