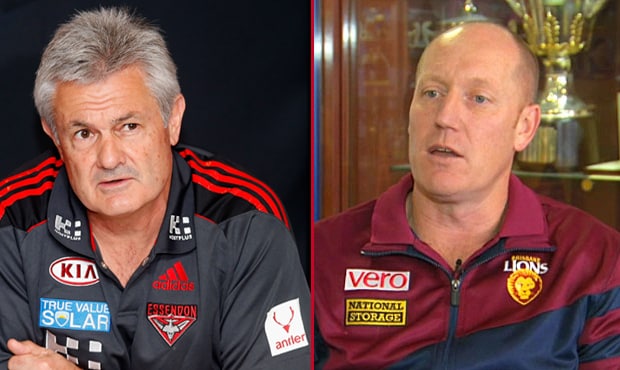 Essendon Football Club is pleased to announce its finalised football department structure that will see the creation of two football executive roles – General Manager, Football Operations and General Manager, Football Performance.
The General Manager, Football Operations will oversee all services that support the Football Department, including Operations, IT, Welfare, List Management and Recruiting.
The General Manager, Performance will oversee all team performance functions including Coaching, Development and High Performance.
The Club is excited to announce Rob Kerr has been appointed GM, Football Operations and Neil Craig has been elevated to GM, Football Performance.
Essendon Chief Operating Officer Xavier Campbell said the structure provided the governance and management framework required in modern football.
"It has been a long and extensive process but importantly we believe this new structure will best position our Club moving forward," Campbell said
"The expectation of football managers is to have expert knowledge on an increasingly wide range of areas including high performance and medical, coaching, IT, operations, recruiting, compliance and finance."
"In order to effectively manage the demanding expectations, changing AFL landscape in relation to competitive balance and the wide ranging requirements associated with the head Football Department role, it has become very clear that the skills set required to fulfill this important position should be split into two specific areas of operations and performance."
"The roles have very clear reporting lines, working parameters and expectations that will ensure greater accountability and provide the best possible resources to the football department with the objective of maximising performance across key functions.
"At the same time, the new structure allows for greater representation of Football at a senior management (Executive) level and provides greater management capability across all areas of the football department," Campbell said.
Rob Kerr was previously an assistant coach at Essendon (1998-99), before joining the AFLPA initially as Executive Director, Player Development and then ultimately as CEO for five years. He then worked with two global management firms that consulted on talent identification, capability building and leadership development, before joining the Brisbane Lions managing List Management and Recruiting functions.
Campbell said Kerr was a great fit for the General Manager, Football Operations role.
"Rob has broad experience in senior management positions inside and outside elite sport," Campbell said
"In his various leadership roles, Rob has demonstrated strong ethics and a strategic mindset. He is a quality operator, an outstanding character and is highly respected within the football industry."
"We look forward to Rob joining our team early next week and wish to thank the Brisbane Lions for releasing Rob early from his contract."
Neil Craig joined the Bombers late last year as Head of Coaching Development and Strategy. Previously, Neil has been Director of Sports Performance at Melbourne Football Club and the Senior Coach at the Adelaide Football Club. He has extensive experience in sports science and fitness, working with the Australian Institute of Sport for 15 years prior to joining the Crows.
Campbell said he was thrilled to have someone of Craig's experience in the role of General Manager, Football Performance
"Neil is one of the most respected coaches in Australian sport and has already brought an enormous amount of leadership and experience to our Club," Campbell said
"Neil is well credentialed for this position given his senior coaching and elite performance experience and we look forward to Neil playing an important role within the football department and on the executive team."
The Club is also pleased to announce Michael Abrahams has been appointed as Integrity Officer.
Michael joins the Club from the Australian Cricketers' Association where he was Legal Counsel.  He has extensive knowledge and expertise in governance, regulatory and integrity issues in the sports industry.  He has been directly involved in applying, advising on and helping to shape regulations in cricket, including working on the equivalent of the players CBA for professional cricketers.
He has great knowledge and enthusiasm for sports law and regulatory issues and has represented the Australian Cricketers' Association and their peak body (the Australian Athletes' Alliance) in consultation with Government and non-government bodies (such as WADA, ASADA and the Sports Minister). He is appointed to the Sports Law Committee of the Law Institute of Victoria.
In addition he brings a strong background in commercial law and was a solicitor at one of Australia's major law firms, Freehills. (now Herbert Smith Freehills)
We look forward to Michael joining us and working with us to ensure our compliance and risk management practices are first class.