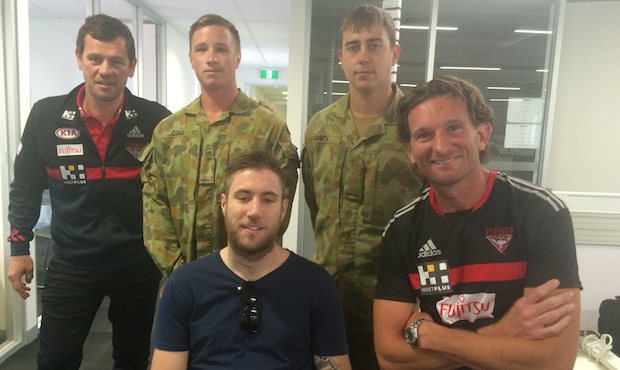 As a member of the 7th Battalion Royal Australian Regiment serving in Afghanistan in 2013, lifelong Essendon supporter Joel Sardi never thought he would experience anything more challenging in his life than war.
But after returning safely from his tour of duty, Sardi was involved in an accidental fall that has tragically left him a quadriplegic.   
"It happened about three months ago and now I am a quadriplegic," Sardi said   
"I'm currently going through rehab and it has been pretty tough but in the bad times good people come out and do good things for others."   
Sardi, who was joined by many of his mates from the 7th battalion, said the opportunity to visit the Essendon Football Club had lifted his spirits during a difficult period.  
"This is really a big part of my overall rehab, not just physical and physiotherapy but also getting out and about and getting back into the community," Sardi said   
"So much of what I am going through is about my mental recovery too, it helps keep my mind busy and not thinking about the negative things associated with what has happened."   
"Football is such an amazing vehicle for helping people in need and I am very appreciate of this opportunity."   
"I've been a Bombers fan all my life so to be able to come here, see the guys I watch on TV and meet them in person has been truly incredible."   
Sardi admitting the highlight of the tour came when he was able to meet two of his childhood heroes in James Hird and Mark Harvey.    
"I was lucky enough to meet James Hird and Mark Harvey," Sardi said  
"It was a bit intimidating meeting Hirdy at first but once you start to talking to him he's a really friendly and genuine guy.  
"Im so grateful to the Essendon Football club for giving me this opportunity."
Click here to follow Joel's journey on his official facebook page.
Essendon star David Zaharakis meets Joe during his visit to the True Value Solar Centre.
/* * * CONFIGURATION VARIABLES: EDIT BEFORE PASTING INTO YOUR WEBPAGE * * */ var disqus_shortname = 'essendonfc'; // required: replace example with your forum shortname /* * * DON'T EDIT BELOW THIS LINE * * */ (function() { var dsq = document.createElement('script'); dsq.type = 'text/javascript'; dsq.async = true; dsq.src = '//' + disqus_shortname + '.disqus.com/embed.js'; (document.getElementsByTagName('head')[0] || document.getElementsByTagName('body')[0]).appendChild(dsq); })();