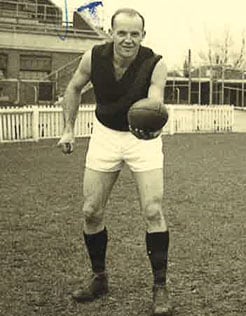 Essendon Football Club is deeply saddened by the passing of former player Jack Harrington.
Recruited from Colac in 1952, Harrington made his debut for Essendon in 1953 where he played 15 games and won the club's best first year player award.
Harrington was a versatile player who was able to play in defence as well as in the centre as both a relief ruckman and ruck-rover.
This versatility saw Harrington quickly cement his place in the team missing only three games between 1953 and 1955, as well as collecting the best clubman award in 1954 and 1955.
His career was unfortunately cut short after an eye injury in 1957 rendered Harrington unable to play at the top level. However, this did not deter him as he returned to become the captain-coach of Preston-Brunswick for the 1958/59 season.
A true club player Harrington passed on December 11 2014.
HARRINGTON CAREER PLAYING STATISTICS:
Years Played: 1953-57
Born: 26/06/1930
Height: 183 cm
Weight: 86 kg
Debut order: 654
Jumper number: 23
Games: 64
Goals: 12
Previous Clubs: Colac
Season Games Goals
1953 15 1
1954 15 6
1955 19 2
1956 11 3
1957 4 0