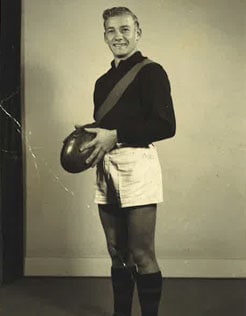 The Essendon Football Club mourns the passing for former player Lance Mann who died on 13 March.
Lance Mann played 80 games for the club between 1951 and 1959. He was part of the club's 1951 grand final side and in 1953 was voted the club's best utility player.
Mann returned home to Albury between 1955 and 1957 but was returned to Windy Hill in 1958 for two more seasons. He retired at the end of 1959 and coached the Essendon Seconds in 1960 and 1961.
Mann was also a successful runner winning the Stawell Gift, Wangaratta Gift and Bendigo Gift in 1952. He is still the only man to win all three events in the same year.
The club extends its sincere condolences to the Mann family.
/* * * CONFIGURATION VARIABLES * * */ var disqus_shortname = 'essendonfc'; /* * * DON'T EDIT BELOW THIS LINE * * */ (function() { var dsq = document.createElement('script'); dsq.type = 'text/javascript'; dsq.async = true; dsq.src = '//' + disqus_shortname + '.disqus.com/embed.js'; (document.getElementsByTagName('head')[0] || document.getElementsByTagName('body')[0]).appendChild(dsq); })();