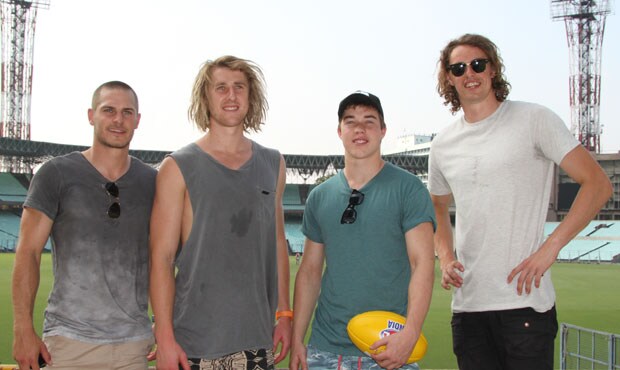 The Essendon players that travelled to India in the off-season experienced a country and a culture they knew little about.
The trip also increased their awareness of the massive stadia in place across the country.
Joe Daniher, Zach Merrett, Dyson Heppell and David Zaharakis spent time at Kolkata's Salt Lake Stadium – a venue that has previously played host to 131,000 soccer fans.
If an AFL game was to be taken to India, the players were in agreement that the country has a number of suitable venues.
"We need to take this game to bigger places and take it abroad and hopefully that's the next step as well and something I'd be really honoured to be a part of," Daniher said.
"I think the people we've met over here have found our game quite strange but intriguing."
Merrett agreed playing a match in India would be a great opportunity to expand the game's reach, even if conditions would be difficult.
"Obviously the weather conditions can be quite difficult," he said.
"But if you play at the right time of year, it would be amazing.
"The venues, particularly Eden Gardnens, are pretty special."
Sabrina Gupta guided the players through their Indian adventure and says the appetite for AFL in the cricket loving country is strong.
"AFL has got a growing market in India and India has recently opened its doors to other sports as well," Gupta said.
"You've got soccer and the IPL, and you can see they're just trying to get other sports there and I think getting AFL there is great.
"It would have a lot of people interested in it."
To learn more about the players experiences you can watch Embracing India tonight on Fox Footy at 9:30pm.
The documentary will also be available on the club website tomorrow.