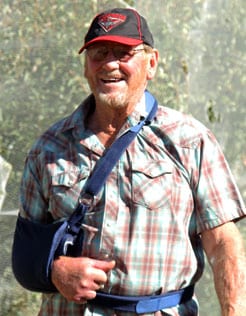 This week, essendonfc.com.au is profiling a country kid who became an Essendon star, but never forgot his roots.
Ian 'Bluey' Shelton played in the 1962 and 1965 premiership teams. He grew up in Avenel in country Victoria in the 1940's, a town he still calls home today.
Ian 'Bluey' Shelton's family ties to Avenel date back to the mid 19th century.
His Grandfather grew up in the town - one of eight brothers. He also had four sisters.
Today, Avenel's population is around 1,000. But when 'Bluey' Shelton was growing up it was closer to 400.
Avenel had everything 'Bluey' needed. Family, open space and plenty of areas he and his friends could go to have fun.
"The family originally settled land in this area in the 1850's, so the Shelton name has been around for a long while," Shelton said.
"I grew up around the town here – unfortunately there was never any underage footy in those days and it was just school footy.
"I used to join in training at the local club and run the boundary on a Saturday until I was the age of 15 and I was allowed to start playing."
Hughes creek flows through Avenel.
'Bluey' played there every night after school. His Grandfather was doing the same thing decades earlier.
The current was flowing particularly strongly one day, leaving Bluey's Grandfather struggling to stay afloat.
"He got into all sorts of difficulty – fortunately Ned Kelly was walking past," Shelton said.
"He dived in and saved the day… he saved the day for all of us Shelton's actually.
"We used to frequent that creek every night after school – trying to scoop fish out of it, catch yabbies, or leaches, or dig rabbits out of the banks – so it played a big part in our early development."
Shelton was playing senior football for Avenel when he started to attract attention from VFL recruiters.
"I had approaches from about four or five clubs," he said.
"Essendon appealed to me – even though I barracked for Carlton as a kid.
"Essendon was the closest one if I was going to be driving down and I had some relatives that lived in Essendon.
"When we were kids we'd always be pouring through the pages of the paper and you'd be seeing the likes of Coleman, Reynolds, Hutchison and these famous players.
"It just seemed to me to be a well run Club. When I did get there I was a bit blown away - as a country kid, standing amongst the Jack Clarke's – the famous names that were in the team at that time."
Later this week, 'Bluey' shares his memories of his playing career with the Bombers.