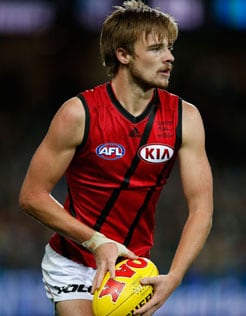 Marty Gleeson knows what Kevin Sheedy means when the former Essendon Coach explains the meaning of 'Country Game'.
Sheedy wants the day to recognise the contribution those who live on the land make to the nation.
Gleeson has seen it first hand.
He grew up on a dairy farm in Koroit in south western Victoria.
"It's pretty exciting – a great initiative started by 'Sheeds' and the Club so I can't wait," Gleeson told Bomber Radio.
"They're out there working pretty hard and they go through some tough times (farmers) – so even if they just get one day or one week of the year where they get a bit of extra recognition, it's great for them."
Footy and farm life were constants throughout Gleeson's upbringing.
He played junior football with Koroit and watched the seniors run around on Saturday.
When he wasn't kicking a ball around his family's property, he'd help keep the farm running.
"We lived on a dairy farm so we had about 300 cows milked twice a day," Gleeson said.
"We're on about 300 acres – my old man and my brother are on that, so it keeps them pretty busy.
"Growing up I used to do a little bit down there, which was good fun."
Gleeson was talented enough to earn a spot with the North Ballarat Rebels in his later teenage years.
Boarding at a local school cut down the travel time to training and he caught the eye of several clubs in the lead up to the draft.
Essendon was one of them, but only spoke to Gleeson late in the piece.
A meeting two days before the draft signaled the Dons had Gleeson on their radar, so it was no great surprise they called his name out with the 53rd pick in the 2012 National Draft.
And with that life on the farm was put on hold, as Gleeson moved to Melbourne to pursue his football dream.
"It's pretty different, I now live in a two bedroom apartment in a unit block of about 24," Gleeson said.
"I lived (in Koroit) in a house where the closest neighbour was about 500 metres away.
"I loved growing up in the country – it's just awesome being able to do what you want, it's a pretty relaxed lifestyle.
"I'm starting to enjoy Melbourne a little bit more but I always think I'll move back to the country eventually.
"Whether it's back home or somewhere else – I don't think I'll live in the city for too much longer when I'm done."
Rounds of golf and the banter among teammates have made the transition to city life and the AFL spotlight easier for the 21 year old.
"I love what I'm doing here, it's pretty hard not to be happy when you come in here," Gleeson said.
"It's obviously been a tough year but once you're around the boys, they're all great blokes – and you're always joking and laughing together."
On Saturday, Gleeson and his teammates will represent the Club in the first ever 'Country Game'.
A strong opponent awaits, but the Bombers are ready.
"It's going to be a great challenge for us and we're ready for it, we're up for it," Gleeson said.
"We want to go out and play our brand of footy, hopefully that holds us in good stead.
"We just want to go out and have a real crack."
And there is sure to be a strong Koroit connection cheering Gleeson on.