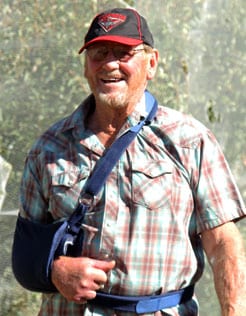 I'd been incredibly lucky to play in three Grand Finals, two winning ones, played for the state a couple of times – so I had nothing to complain about except the 'bloody mongrel eye'
Ian 'Bluey' Shelton
Ian 'Bluey' Shelton played in a Grand Final in his first year with Essendon but had to wait until his fourth to secure a premiership medal.
John Coleman guided the Bombers to the 1962 premiership with Shelton as his centre half back.
Essendon kicked six goals to one in the first quarter against Carlton.
The Blues clawed their way back, but the Bombers had their measure and kicked away again, running out 32-point victors.
At 22, Shelton was a premiership player and in the best form of his career.
At 25, he retired.
He was young in years, but his body had taken some hits.
The first significant blow landed in the off-season of 1963.
"I came back after the footy season to the farm and I had a problem with a tractor," Shelton said.
"I took it into the local bloke who fixed up tractors, who incidentally was Geoff Baker – who was the father of the famous Leon Baker – and he was my first Coach at Avenel when I started playing, and my hero and still is to this day.
"He was doing a job hitting something and I got my head in the road and a bit of steel came out and just pierced my right eye right in the middle.
"That was the end of that eye ever being effective again."
Shelton missed the entire 1964 season.
He returned the next year and despite having the use of only one eye, became a premiership defender once again.
"I just had to learn to adjust," Shelton said.
"They said I shouldn't play, but the desire to play was too strong.
"Particularly coming (after) we'd just won a flag."
Shelton enjoyed reaching the top of the VFL tree once again, but he didn't feel he was the player he was when he first tasted success three years earlier.
"I was only 25 but I just felt that I was losing too much at that elite level by being knocked off balance when I didn't know someone was coming," Shelton said.
"It became a little bit more difficult. I wanted to buy the farm from the old man, so a bit of pressure came from there, so I decided it might be a good time to leave.
"I'd been incredibly lucky to play in three Grand Finals, two winning ones, played for the state a couple of times – so I had nothing to complain about except the 'bloody mongrel eye'."
Shelton coached at Seymour before ending his football career with Avenel – where it all began.
He still lives in Avenel today.
Many decades have passed since Shelton was a key player in two Essendon premierships.
But his love of the Club has not diminished.
"One of the great things I remember from my time at Essendon was the doors it opened to me for places where I could go and people would welcome me," Shelton said.
"Essendon has just been absolutely fantastic the way they've always looked after us former players.
"I'm just eternally grateful for the fact I got the chance (and) was able to capitalise on it."