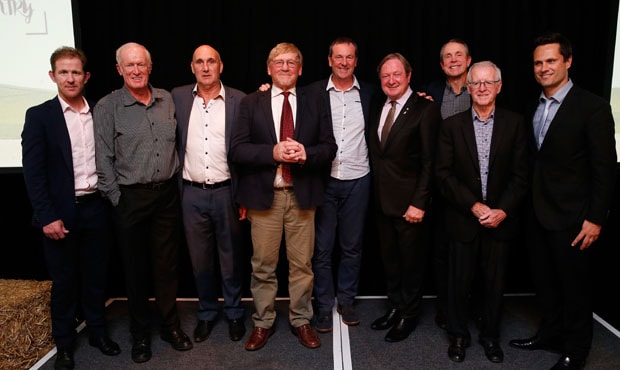 Essendon has celebrated its Team of the Country before an audience of some of the Club's most decorated champions.
Around 300 people were there to mark the naming of the side ahead of the first ever 'Country Game' on Saturday at the MCG.
"You know that you're going to leave best and fairest winners and premierships players out," Sheedy said.
"Dyson Heppell, Alec Epis and Ronnie Andrews – they're really good players.
"Mark Johnson played for Victoria and won a best and fairest at Essendon.
"Alan Ezard won a best and fairest.
"The hard part is you can't pick them all and it was very difficult."
The final line-up includes 37 premiership medals, 20 best and fairests, two Norm Smith Medals and a Brownlow medal winner.
Essendon Team of the Country
B: Gavin Wanganeen, Bill Brittingham, Bob McClure
HB: Neale Daniher, Ian 'Bluey' Shelton, Norm McDonald
C: Reg Burgess, Jason Johnson, Michael Long
HF: Scott Lucas, Roger Merrett, Terry Daniher
F: Frank Maher, John Coleman, Alan Noonan
R: Hugh Torney, Tim Watson, John Birt
I: Leon Baker, Merv Neagle, Bill Duckworth, Percy Bushby, Ken Fletcher, Glenn Hawker
The announcement of the Team of the Country comes ahead of the first ever 'Country Game' tomorrow between Essendon and Geelong.
"This should be an icon game that will stand the test of time," Sheedy said.
Entertainment begins outside the ground from 10:30am.