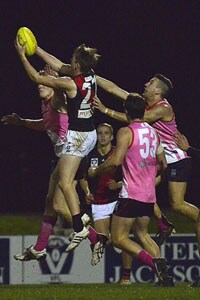 Essendon's percentage has been dealt a blow following an 86-point loss to the Casey Scorpions at Casey Fields on Saturday night.
The Scorpions kicked the opening three goals of the contest and were never challenged by the Bombers, losing 6.7 (43) to Casey's 20.9 (129).
The Bombers were unable to halt Casey's break neck speed and struggled to take the ball forward with any real quality for the duration of the contest.
Essendon trailed by 39 points at the main interval but the Scorpions kicked away with 12 second half goals to the four.
Jonathan Simpkin was one to hold his head high for the Bombers with 28 disposals, with Ryan Crowley trying all night with 26 touches and Kyle Langford with 20 disposals.
Vic Carboni played his best game at VFL level with 22 touches, while Sam Heavyside impressed with 15 disposals and nine marks.
In his first game back following his hamstring injury, Mathew Stokes collected 18 touches and looked to move freely.
Nash Holmes was up for the fight, regularly clashing with some higher profile names from the opposition.
Casey's Melbourne listed players led the way for the Scorpions including Jay Kennedy-Harris, Alex Neal-Bullen, Jack Grimes, Jack Trengove and Viv Michie.
Coach Matthew Egan said the game was a similar to the 78-point loss to Geelong before the bye.
"It was a little bit like Geelong, it wasn't our best game obviously and we came up against a team in red hot form," Egan said.
"Casey are well structured, aggressive and hard to play against – we couldn't find much clean ball and when they had it we couldn't get it off them.
"They have a good balance of youth and experience, they have guys like Dean Terlich and Lynden Dunn who have been around for a while who set their team up.
"To get to their level we need to work on our games really bloody hard because the reality is they were a lot better than us tonight."
The win moved the Scorpions into top position of the VFL ladder with Williamstown set to play on Sunday.
Richmond's win over the Northern Blues ensures that the Bombers will remain a game clear in eighth.
Egan said that fourth gamer Vic Carboni was one who impressed the coaching staff.
"I was really happy with Carboni's game down back, we haven't seen him much this year – he was aggressive, took the game on and gave us some run which we didn't seem to get much of," he said.
"Nash Holmes again shows signs of a player improving and he's probably our most aggressive player against a team that play aggressive footy.
"We tried some things, moved Heppell and Ashby on ball, Coghlan down back, Crowley to the wing, Michael went from ruck to back, McKernan went forward to ruck.
"We moved most the team around but it was the same result – obviously we have a lot of work to do."
Egan has promised to review the game hard as they look to restore their finals credentials against Williamstown next week.
"We need to review this game pretty hard, the work rate on the outside was an issue," he said.
"We picked the best team that was available this week and we felt it was going to give us the best chance."