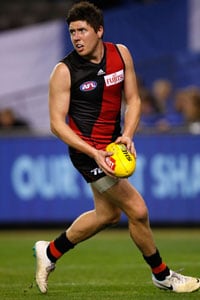 A desire to be part of Essendon's next successful era formed part of the reason Nick O'Brien decided to return to the Club.
The 23 year old has signed on with the Bombers VFL side after spending the 2016 season playing in the SANFL with Woodville-West Torrens.
"It's such a special time for the Club on a bigger scale with the guys coming back this year," O'Brien said.
"The Club is in such a good position. Xavier Campbell and John Worsfold have done such a great job with the AFL system and the VFL is always a great reflection of that.
"I just wanted to be part of the success as well and hopefully play a small part in it."
O'Brien played 14 AFL games with the Bombers, including nine in 2015, after making his debut in 2012.
But when his time at the Club ended he headed to South Australia, where he led Woodville-West Torrens to the Grand Final and finished runner-up in the Magarey Medal (the SANFL's equivalent of the Brownlow medal).
"As much as I loved my time at Woodville West Torrens, I always had an affection for Essendon," O'Brien said.
"Definitely to be back closer to family is something that was important to me.
"I was always really keen to get to Adelaide and play a year over there but it was probably never going to be a long term thing.
"Once I decided to come back, Essendon was definitely a priority."
Paul Corrigan will take over the coaching reins from Matthew Egan, while O'Brien will combine his playing commitments with a coaching role.
"I loved 'Cora' in my time with the VFL, he was a fantastic Coach to be around and I've got no doubt he'll be a wonderful head coach," O'Brien said.
"I'm looking forward to having a really good player-coach relationship.
"There is certainly a coaching aspect to the contract so I'll work with the first to third year guys on the VFL list which will be fantastic.
"It's something I'm quite passionate about – having an impact on the younger guys coming through.
"It doesn't feel that long ago that I was in that position."
It is only five years since Essendon drafted O'Brien and at 23, he's not shutting the door on a return to the AFL ranks.
"I would certainly love to play at that level again, but at the same time you're completely in the AFL clubs hands," O'Brien said.
"You can't do much more at this time of year, you've done as much as you can on the field.
"Definitely at this age I know it'll get harder and harder, but if it's not going to be at AFL level this year, VFL at Essendon was my next best option."