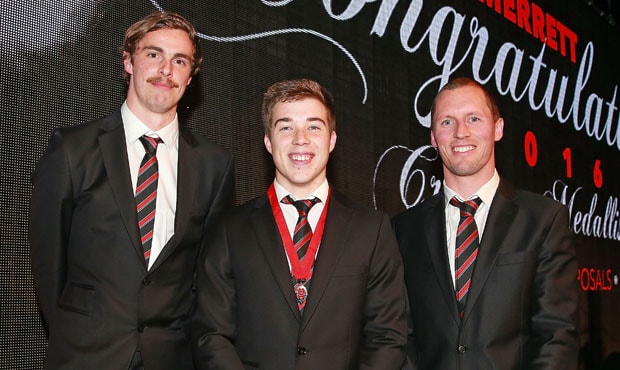 Named after former club administrator W.R Crichton, the Crichton Medal is awarded to the Club's best and fairest.
Did you know?
- The Club record for most best and fairest wins sit with Dick Reynolds and Bill Hutchison, who have won seven each.
- There has only been one tie in the Club's entire history which occured when both Scott Lucas and James Hird won the award in 2003.
- Jobe and Tim Watson are the only father-son combination to win the award multiple times each. Tim has won four medals, while Jobe has won three.
- David Hille (2008), Simon Madden (1977, 1979, 1983, 1984) and Graham Moss (1974, 1975, 1976) are the only ruckmen to win the award.
- Dick Reynolds was the youngest player to win the award. He first won the award aged 19 and would go on to win it another six times.
| | |
| --- | --- |
| YEAR | BEST & FAIREST |
| 2016 | Zach Merrett |
| 2015 | Cale Hooker |
| 2014 | Dyson Heppell |
| 2013 | Brendon Goddard |
| 2012 | Jobe Watson |
| 2011 | David Zaharakis |
| 2010 | Jobe Watson |
| 2009 | Jobe Watson |
| 2008 | David Hille |
| 2007 | James Hird |
| 2006 | Scott Lucas |
| 2005 | Jason Johnson |
| 2004 | Adam McPhee |
| 2003 | James Hird and Scott Lucas |
| 2002 | Mark Johnson |
| 2001 | Jason Johnson |
| 2000 | Dustin Fletcher |
| 1999 | Mark Mercuri |
| 1998 | Damien Hardwick |
| 1997 | Sean Denham |
| 1996 | James Hird |
| 1995 | James Hird |
| 1994 | James Hird |
| 1993 | Gary O'Donnell |
| 1992 | Mark Harvey |
| 1991 | Alan Ezard |
| 1990 | Mark Thompson |
| 1989 | Tim Watson |
| 1988 | Tim Watson |
| 1987 | Mark Thompson |
| 1986 | Glenn Hawker |
| 1985 | Tim Watson |
| 1984 | Simon Madden |
| 1983 | Simon Madden |
| 1982 | Terry Daniher |
| 1981 | Neale Daniher |
| 1980 | Tim Watson |
| 1979 | Simon Madden |
| 1978 | Ken Fletcher |
| 1977 | Simon Madden |
| 1976 | Graham Moss |
| 1975 | Graham Moss |
| 1974 | Graham Moss |
| 1973 | Andy Wilson |
| 1972 | Neville Fields |
| 1971 | Barry Davis |
| 1970 | Darryl Gerlach |
| 1969 | Barry Davis |
| 1968 | Barry Davis |
| 1967 | John Birt |
| 1966 | Don McKenzie |
| 1965 | John Birt |
| 1964 | Ken Fraser |
| 1963 | Ken Fraser |
| 1962 | Jack Clarke |
| 1961 | John Birt |
| 1960 | Reg Burgess |
| 1959 | Hugh Mitchell |
| 1958 | Jack Clarke |
| 1957 | Reg Burgess |
| 1956 | Bill Hutchison |
| 1955 | Bill Hutchison |
| 1954 | John Gill |
| 1953 | Bill Hutchison |
| 1952 | Bill Hutchison |
| 1951 | Norm McDonald |
| 1950 | Bill Hutchison |
| 1949 | John Coleman |
| 1948 | Bill Hutchison |
| 1947 | Wally Buttsworth |
| 1946 | Bill Hutchison |
| 1945 | Wally Buttsworth |
| 1944 | Percy Bushby |
| 1943 | Dick Reynolds |
| 1942 | Dick Reynolds |
| 1941 | Wally Buttsworth |
| 1940 | Hugh Torney |
| 1939 | Dick Reynolds |
| 1938 | Dick Reynolds |
| 1937 | Dick Reynolds |
| 1936 | Dick Reynolds |
| 1935 | Keith Forbes |
| 1934 | Dick Reynolds |
| 1933 | Paddy Walsh |
| 1932 | Syd Carmen |
| 1931 | Tom Clarke |
| 1930 | Keith Forbes |
| 1929 | Howard Okey |
| 1928 | Norm Beckton |
| 1927 | Frank Maher |
| 1926 | Joe Harrison |
| 1925 | Greg Stockdale |
| 1924 | Tom Fitzmaurice |
| 1923 | Tom Fitzmaurice |
| 1922 | Tom Fitzmaurice |
| 1921 | |
| 1920 | Jock Garden |
| 1919 | |
| 1918 | |
| 1917 | |
| 1916 | |
| 1915 | |
| 1914 | |
| 1913 | Fred Baring |
| 1912 | Ernest Cameron |
| 1911 | Ernest Cameron |
| 1910 | |
| 1909 | Bill Busbridge |
| 1908 | Bill Busbridge |
| 1907 | |
| 1906 | Jack McKenzie |
| 1905 | |
| 1904 | |
| 1903 | |
| 1902 | Hugh Gavin |
| 1901 | Albert Thurgood |
| 1900 | |
| 1899 | |
| 1898 | |
| 1897 | |