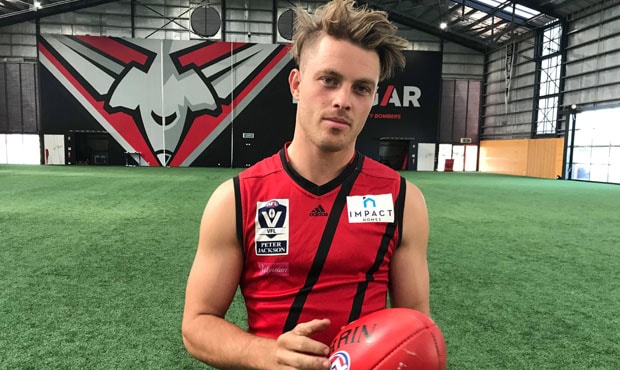 The time is now for Ben Fennell.
After an ACL injury cruelled what would have been the 25-year-old's first season in the red and black, the highly-rated Bombers midfielder says he has "unfinished business" to attend to in 2018.
"I'm really confident in my body at the moment; I've got it to the position to play at a higher level that I've never had before," Fennell said.
"I'm fitter and stronger than I've ever been and I haven't had any setbacks at this stage, I've hit all the benchmarks I need to hit.
"I'm slowly starting to introduce contact more and more each session, I'm feeling really confident every time I've introduced contact - I feel like I'm flying at the moment."
After signing to Essendon's VFL list following three years in Collingwood's development squad, Fennell's 2017 season was stolen from him when he injured his right knee at training with Northern Football League side Montmorency.
The mental blow hit Fennell just as hard as the physical blow. As diagnosis faded into surgery and then into the path to rehabilitation, he recalls having to endure what renaissance-era poets described as 'dark nights of the soul'.
"Early days, I did," Fennell admits.
"The thing that drove me was the support I got from the club.
"Even just after the injury when I had to take time away from the club after surgery I was getting calls from (2017 VFL coach and 2018 AFL forwards performance coach) Paul Corrigan about how Sam Hooper was in the same boat and how we would come back together and drive ourselves through rehab.
"You obviously have those moments where you doubt yourself, but once I got back to the club I couldn't believe how motivated I was and that's full credit to the blokes around me.
"Full credit to (former head of rehabilitation and current head of physio) Brady Green and Essendon Football Club's physios, they've really helped me to get my body into the best nick it's ever been in.
"Brady was absolutely huge in my recovery, he really kept me on track.
"I'm really excited for the year ahead with this group and I'm more motivated than I've ever been."
Fennell was a two-time best and fairest winner at his former NFL club Hurstbridge and was described as one of the competition's star on-ballers before becoming a Bomber.
With such a strong pre-season burning his desire to return, all that remains is for Fennell to recapture the freedom of playing at his very best.
"It's fun. I know it sounds clichéd," he laughs when describing his love of playing footy at the peak of his powers.
"But sometimes in the past I've cursed myself for taking all the enjoyment out of footy and focusing on the external things, putting pressure on myself and the expectations.
"When I play my best footy is when I'm out there having fun, when I'm clear-minded and playing footy like I'm a little kid again."