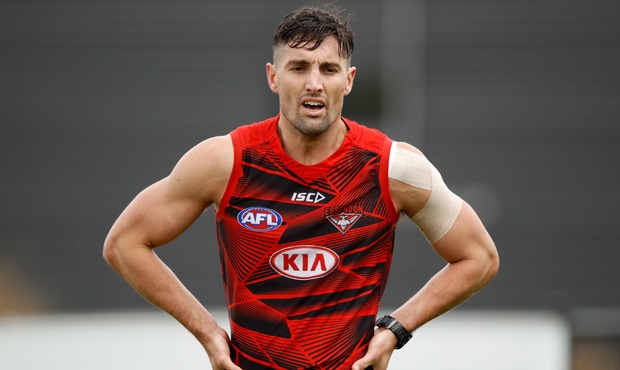 David Myers is well aware of his past troubles with injury, but the inside midfielder says he is thrilled with the pre-season he has had.
The 28-year-old has played just 100 games in his 10 injury-ravaged seasons at the club, but said he has had few hiccups heading into the home and away season.
"I feel great, I haven't missed a beat really with training," Myers said.
"I got a bit crook with gastro like quite a few of the other guys the other week, but other than that I've got all of the work in.
"That's always been half the battle with me is trying to stay healthy and not get injured, so touch wood everything is tracking well."
After facing reigning premiers Richmond in their first JLT match, the Bombers are set to face further challenges against Geelong in Colac on Sunday and Adelaide in round one.
Myers said taking on the league's best teams at this time of year is the best way to prepare yourself for a strong season.
"You want to know where you stand," he said.
"If you want to be there at the end of the year winning finals when it counts, they're the teams that have been up there and up there for a long time.
"It's a good yardstick to measure yourself off and it's good for the guys to taste that pressure and that level of competition early in the year and hopefully we'll be right to go in round one."
One player who unfortunately hasn't been able to stay on the park this pre-season is midfielder Travis Colyer who suffered a sesamoid (foot) injury and is yet to return to training.
Colyer joined Myers at the club's RMIT partnership launch, and said his recovery is progressing nicely and is hopeful to be back in full action in the next six to eight weeks.
"It's something that I've got full confidence in and has gone really, really well so far, so fingers crossed it can continue," he said.
The 26-year-old said he is itching to return to the field and admitted it was hard to watch the side's loss to Richmond in Wangaratta.
He also said the strength of Essendon's squad has given him further drive to ensure he is back in the team as soon as possible.
"The playing group that we've got now is super in terms of their attitude and their intensity at training," Colyer said.
"Looking forward, you don't need more motivation, but it's definitely an extra little bit that I need to get me back out there."