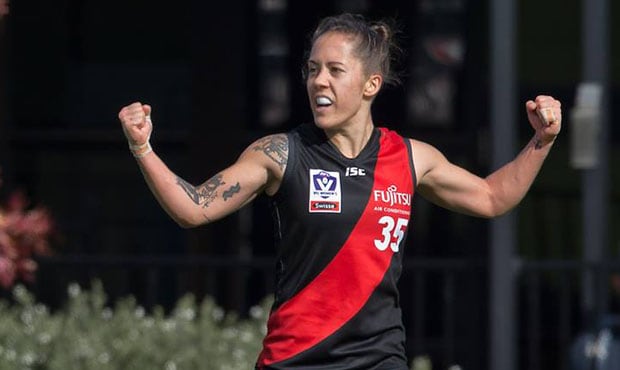 To journey from Canada to Victoria in the pursuit of a dream of playing Australian Rules is an extraordinary love letter to the game.
And it's that single-minded commitment and passion that has led Canadian pair Kendra Heil and Valerie Moreau to pulling on the red and black in Essendon's inaugural VFL Women's side.
Ontario native Heil and Quebec-born Moreau played together at the former VFLW club Eastern Devils in 2017 and stayed side-by-side when they came to the Hangar.
Although only introduced to Australian Rules at the age of 24, Heil's understanding of her craft has grown in the time spent recovering from consecutive ACL injuries.
"I spent a lot of time coaching, watching footy, analysing footy, doing stats, bench manager, all the roles that you never do as a player so that I could see the game from different angles and learn that way," Heil said.
"Obviously being from Canada, one of the areas you lack experience in is watching footy, you don't grow up with it."
Moreau describes Heil as a "big sister", and she's not the only Canadian player who would look to Heil as an aspiration. After arriving Down Under in 2013, Heil became the first Canadian player drafted to an AFL Women's list when she was selected by Collingwood as a free agent in October 2016.
"I'm an example for the girls to say, 'You can come and do this. This is possible'," Heil said.
Moreau only touched down on Australian soil in November, 2016, but immediately gravitated to the Devils as she stayed with Heil.
"When I first got here and came to training, she welcomed me," Moreau said.
"I think we're both pretty independently strong people but we're always going to be there for each other if we need to."
While describing coming to Essendon as "the best decision I've made, pretty much ever", Moreau concedes that there are moments when being so far from home takes its toll.
"I feel a little bit homesick," the small forward admitted.
"At the beginning it's easier because everything's new, everything's exciting. When you get into a bit of a routine, you miss home a little bit more.
"So the support has been really good from home and even from here with (girlfriend) Sarah. Her family has been treating me as another daughter."
In round two against Melbourne Uni, Heil and Moreau played their first match together for the Bombers – with their friends, family and teammates back home cheering them on.
"We've had lots of support from our Canadian team, our Team Canada coach Jason Arnold really pushed us to keep going with footy here and then family and friends have been great," Heil said.