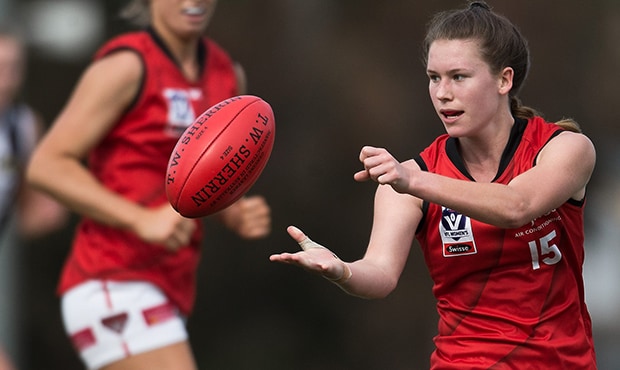 Lauren Caruso is leading the way for the batch of Bombers playing senior football for the first time in 2018.
Caruso is one of several members of the Calder Cannons who have come along the pathway to the Hangar and was the captain of the inaugural Cannons' side in 2016.
The 18-year old says her appointment as captain was a learning curve in the responsibilities every teammate has to the playing group.
"I like to make sure everyone is included in the things that we do and that the team's up and about," says Caruso. "On-field, it was about providing constructive but good feedback to your teammates. Also, playing footy but playing it fairly; not going out there to hit every player but to play with good intention.
"Being a captain at Calder showed me being able to talk to different people and being able to grow from different experiences on and off the field."
Caruso has played four of a possible five matches since making her debut in Round 1 against Hawthorn with her tackling and attack on the ball impressing in the backline. She's not yet in the leadership group at her new club but says all the lessons she took on board at Calder have been extrapolated into being an influential player on and off the field at Essendon.
"It's definitely something that I want to be," says Caruso on whether such a young player can still make a mark as a leader.
"I feel like it's the little one-percenters that you do throughout training and on and off the ground that can make you a leader - just talking, giving good feedback, getting around everyone."
Caruso is one of 13 Bombers aged 21 or younger who are at the beginning of their senior careers and she says the purpose from such a strong crop of youth learning at the knee of the senior leaders has created unity.
"There is a little bond between us all because we're surrounded by such influential older players. Some people have more experience than us, but we'll learn from them. I think we all bring something unique to footy."
With Essendon still yet to tick off its first win going into the Round 6 bye, Caruso and her teammates have had to learn the ropes of VFL Women's fast.
"It is definitely faster and more physical," says Caruso comparing the new standard to TAC Cup.
"You don't have time to think, your first option is your best option. Also having a positive mindset – if you haven't done something well, there's always time to do something good."