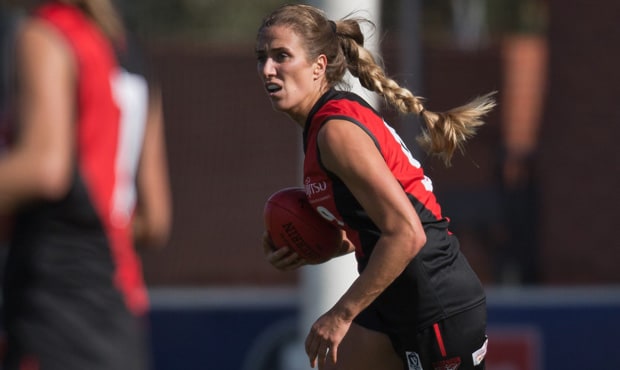 It has been just under two months since Lisa Williams was voted the inaugural Essendon VFL Women's captain by her team.
Over a two-week bye period, the winger has reflected on a whirlwind start to the season for the first female side to wear the red and black.
The Bombers have written the debut page in the history books in front of around 3,000 fans at Windy Hill, toughed it out in the scorching heat in Darwin and played in the inaugural VFL Women's Dreamtime Match at Punt Road.
Lifelong Essendon fans have lived out their dreams of playing at The Hangar and youngsters with potential ahead of them have had their first taste of senior football.
However, work has only just started. Essendon's first win is still yet to be recorded and draft prospects are still looking to prove themselves ahead of the 2019 AFL Women's season.
Ahead of the Bombers' round seven clash with Hawthorn, Williams shared her thoughts on how her side is travelling.
What has Essendon done well in its first five matches?
"I think we've done really well to find our feet as a team in terms of building team morale. We've had a really positive culture around the girls which has been really good. We've been able to work out each other's strengths and know what each player brings to the game and know what we can use to our advantage."
What do we still need to improve on?
"We need to play four consistent quarters. That's been the clear room for improvement that we need to focus on. We've played some really good patches of footy, but it's been patches. We need to make that consistent now and execute a game start to finish all the way through."
Which of the younger players have most impressed you?
"I've been very impressed by a number of them. We've got a lot of girls who have a lot of talent that are coming through the ranks, they're really exciting players to watch at a VFL and probably AFL level coming up.
Lauren Caruso, the way she goes about her footy is really exciting, she plays with a lot of maturity and plays with a calmness and collected approach to the game which I think has been really impressive.
DP (Danielle Ponter) has an amazing amount of skill and she'll go a long way … we've seen some amazing glimpses of what she can produce. She's one to watch for future, definitely."
How has the support for the VFL Women's team been from the club?
"The support we've had from the club has been amazing. From the day we walked in, we have been very respected and welcomed and there's the sense of inclusiveness and equality amongst the club that we just couldn't fault.
From every aspect it's been exciting to be here and you can tell the excitement from all the different people in the club whether it's staff, VFL men's, AFL men's players, everyone has gotten around us, so it's been fantastic."
Are the goals that you set as a team at the start of the season still the same?
"Yes they are, in that we want to play the best brand of footy that we can. We always knew that we had quite a young list with varied levels of football experience coming into the team, so we have a strong focus on development of younger players.
Obviously, we want to get wins on the board between now and the end of the season but it's all about playing the best footy we can, firstly as a club and secondly as individuals as well."
Lastly – how have you found being captain?
"I'm loving captaincy. We've had a very, very competent and experienced group of players in the leadership group who've been amazing leaders and support, as well as many individuals in the playing group who have stepped up as leaders too … (Brendan) Major, Sony (Michael Ericson), Josie (Smith) and LJ (playing assistant Lauren Morecroft) as a coaching group and Ash (Brown) as our footy ops manager have been amazing to work with.
The girls have taken on every challenge with open arms and loving the way that we're gelling. We've got a lot of growth and development from this point on but it's really exciting to be leading the girls but also to be working alongside them and have everyone playing their part."