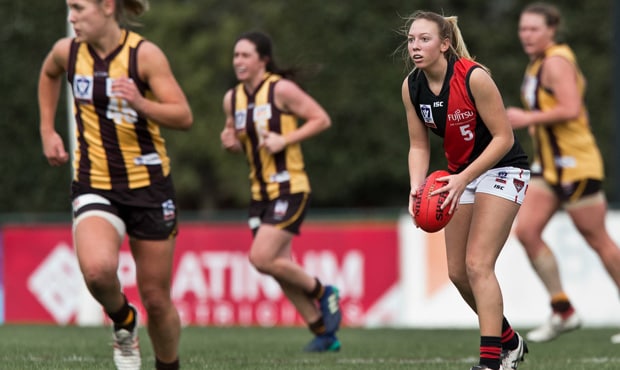 18-year-old Bomber Molly Warburton added the latest milestone to her football career when she made her VFL Women's debut against Hawthorn at Box Hill City Oval on Sunday.
There was no time for nerves: Warburton started on the field and charged off the half-back line into the first stoppage to lay her hands on the ball and get a kick forward.
"I like starting on and just going straight in," said Warburton, whose football resumé includes two years of TAC Cup experience at the Calder Cannons and a place in the initial Vic Metro squad for the AFL Youth Girls' National Championships.
"I felt like I could play at the standard."
From there, any hesitancy was blown out of the debutant. She finished with five touches, four tackles and two marks and although the Bombers were outlasted by the fourth-placed Hawks, Warburton walked away from her first foray in VFL Women's with her head held high – and a place in her side's best on the day to boot.
"I loved it," reflected the young defender on the new standard.
"It's a lot faster than I was used to and you had the bigger bodies going in there. It was good to be able to play my game with some really good support around, like LJ (Lauren Morecroft), who's been showing me the ropes."
Crediting her experience at Calder as a learning curve that "built the foundation", Warburton is one of six players aged 18 or under on the Bombers' list. All have now made their debuts at the end of round seven.
Warburton was one of three Essendon debutants in round seven and was presented with her playing guernsey by captain Lisa Williams before the team in the rooms before the game.
Alongside her in playing her first VFLW match was fellow Cannon and Vic Metro selection Carla Rendelmann, with whom Warburton has shared the better part of her football journey for two years.
"It was special," Warburton said. "We've come through Calder, we've been together at Essendon and just been with each other, so it was special to debut together."
Essendon will play the Casey Demons in round eight in a VFLW/M double-header at RAMS Arena in Craigieburn from 11.30am on Saturday.