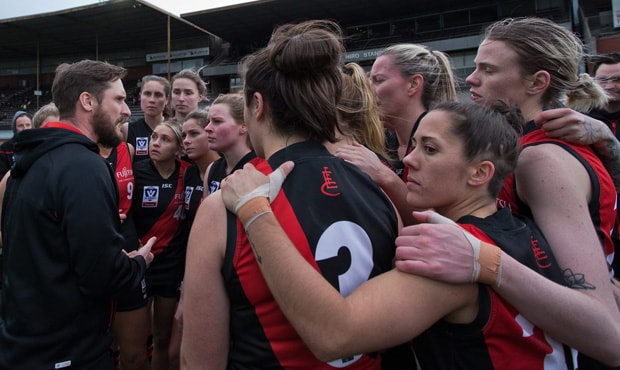 A final quarter fade-out cost Essendon dearly in its low-scoring round 15 bout with Williamstown.
For three quarters, the Bombers and the Seagulls couldn't gain the upper hand on each other as they slugged it out in torrid conditions at Windy Hill.
A third-quarter goal to Valerie Moreau bridged Essendon's deficit to two points at the final change but the chance of a second win for the season was lost in the fourth term.
North Melbourne AFLW forward Jasmine Garner stood up to kick two goals for Williamstown in the first 10 minutes of the quarter to turn an evenly-keeled match into a comfortable Seagulls victory. Essendon conceded four goals while going scoreless in the term and lost 1.3 (9) to 5.7 (37).
In defender Kirby Hicks' 100th senior match, Essendon struggled to find its footing from the start in the freezing rain and was outscored in the first quarter after kicking with the wind.
A goalless Williamstown second quarter cancelled out the damage, leaving it all up to the Bombers in the third quarter. Moreau bombed through her side's first from the afternoon from insistent forward drive. but it was to be the brightest moment on a dirty day for the Bombers.
With an extended goal square, 10-metre minimum kick for a mark and boundary throw-ins from 10 metres inside the field all trialled as rule changes, the dominance of ruck duo Simone Nalder and developing youngster Bridie Winbanks continued almost unabated across the four quarters. However, Essendon was unable to capitalise with momentum out of the clearances.
After missing the round 14 clash, Maddy Collier returned to the side and fought with the resilience she has shown all season but the silver linings were hard to find on a day when Essendon missed a chance to take the next step in its development in its first season.
The Bombers play their final game of the home and away season next Saturday against traditional rivals Carlton at Windy Hill from 3pm.
ESSENDON 0.1 0.1 1.3 1.3 (9)
WILLIAMSTOWN 1.0 1.5 1.5 5.7 (37)
GOALS
Essendon – Moreau
Williamstown – Garner 2, Paterno, Van de Heuvel, Williamson
BEST
Collier, Nalder, Moreau, Neaves, Caruso, Trend