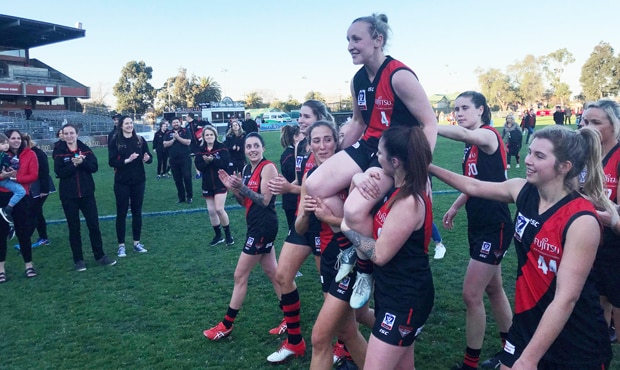 Essendon was on the receiving end of an astonishing solo performance from Carlton AFLW star Darcy Vescio in its 75-point loss in the final game of 2018.
By quarter-time, Vescio had posted four and went on to kick the first nine goals of the match as the Blues inflicted the Bombers' biggest loss of their inaugural season, 14.8 (92) to 2.5 (17).
In the first half, Essendon was far from disgraced around the stoppages but Carlton's upper hand in the clearances was magnified by the Midas touch Vescio, who was simply the difference between the two sides.
Her sixth goal came from a clean one-handed mark on the lead in a one-on-one contest on the lead before she turned on the spot to convert.
Although the half-time margin of 49 points was always going to be a steep climb for the young Bombers, Brendan Major's team dug deep with pride on the line.
Essendon controlled the play for much of the third and fourth quarters.
The potential shown by youngsters Maddy Collier, Nat MacDonald and Courtney Ugle came to the fore while Alex Quigley, having kicked her side's first ever goal back in May, converted from a strong contested mark before Kendra Heil capped her ACL-comeback season with a goal on the run in the final quarter.
"It was a tough end to the year," Major admitted.
"Our midfield was second to the ball early … Vescio was amazing.
"Our usual suspects were good again. We've gotten strong years out of Collier, [Hayley] Bullas, Nat Mac and Trendy."
Both the debut of Bella Nichols and the retirement of vice-captain Tash Hardy were celebrated in the emotional change rooms after the match.
"It's been a character-building year. We focused on a style of play and a focus on developing individuals," Major said, reflecting on Essendon's inaugural season.
"There has been amazing growth in the group led by players like Tash Hardy, Lisa Williams and Lauren Morecroft. It's been a great year of opportunities and it's been a privilege having such good characters in our squad."
ESSENDON 0.1 0.1 1.3 2.5 (17)
CARLTON 4.2 8.2 13.3 14.8 (92)
GOALS
Essendon – Quigley, Heil
Carlton – Vescio 9, McKay, Gietzmann, Harvey, Malouf, Caris
BEST
Collier, Williams, Quigley, Trend, Bullas, Moreau