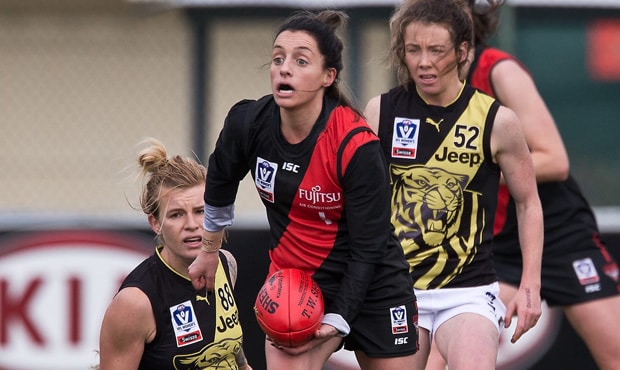 Last Wednesday afternoon, Essendon leadership group member Jess Trend was preparing for her medical test with North Melbourne when she got a double-check call from Kangaroos' coach Scott Gowans.
Was Trend still good to come in the next day?
Yeah, all good.
And the medical test? Still right to go.
Yep.
Oh, and one more thing … would she be right to sign a contract for the 2019 AFLW season?
"I just about dropped my phone," the 27-year-old confessed.
Trend's selection as the first Essendon VFLW-listed player to an AFLW squad has been a longer time coming than anyone – especially Trend herself – would have expected halfway through the 2016 VFLW season.
Playing at former VFLW side the Eastern Devils under current Bomber coach Brendan Major, Trend was a prolific on-baller seemingly destined for a place in the inaugural season of the national competition. However, an ACL injury in July threw her plans into disarray.
After taking the entire 2017 season off for rehabilitation, Trend came to the Hangar ready to put her AFL dreams back on track.
"I was a little bit concerned when I started pre-season. When I started to train, I realised just how much knowledge and footy skills I had missed out on after missing last year," admits Trend.
"Entering the season, I had a lot of nerves and you could see that in my first three games."
Trend puts her shaky start at Essendon down to not only nerves but the pressure of expectations she was putting on herself by setting her sights on an AFLW drafting.
"I had to put it all behind me because the amount of negativity it had brought on me in the last two years was affecting my mental health and my footy.
"In the end, I just thought, it has to come down to putting the draft behind me and just playing footy."
The turning point came after Essendon's heavy loss to a star-studded Northern Territory side in Darwin in round three.
"The best thing that happened was when Major pulled me aside after the Northern Territory game and said, 'Look, you need to understand that you've had a whole year off. It takes at least five games to get back into it and find your feet again.
"I took that in and instead of thinking of it as a comeback, I decided to just think about playing footy.
"It was funny, when North Melbourne rang me I was actually thinking, 'What, is the draft already here?' That's how much I had put it behind me."
After carving out her career in the midfield, Trend was increasingly used as a defender and forward in the latter half of the season.
Noting the patience and composure required in her new roles, Trend's newfound versatility was noted by the team at Arden St.
"When I was talking to the North Melbourne team last Tuesday night, they actually said, 'When we watched you after your first bye, you seemed like a different player,'" recalls Trend.
"My response was purely that I had trusted my body again. It was just purely playing for Essendon. The Hawthorn game [in round seven] was when I first found my confidence. Listening to North Melbourne, one of the reasons why they were interested in me was my play in the backline, so that's the area I stood out in."
After being selected by her peers as part of the flagship Bomber leadership group before round one, Trend is a now a firm believer in the difference made by seeing the game through the eyes of a leader.
"That was huge for me. Not only maturity-wise but I just understood how I needed to talk to the players on and off the field and understand when to switch on and be serious and when I could have a bit of a laugh. So, the leadership group was probably the best thing I've ever aimed for."
26 months after her injury, football is now back on track for Trend. It's been a physically and emotionally draining journey, but she has never been alone.
"My partner Emma has been absolutely unbelievable but huge thanks to [Essendon physios] Tanz and Moose: I could not have asked for or wanted a better rehab program than what they produced," Trend begins.
"Obviously, Major's been a big part of my comeback. Having that first discussion with him to not play last year was probably the best decision I've ever made. And, of course, my Devil and Essendon family as well."
For Jess Trend, the longest battle has been won. Now, the foundation Bomber knows exactly what she wants as she looks towards her AFLW career.
"Most of all, I would just love the experience so I could sit back one day and say, 'Yes, I met the standard.'"