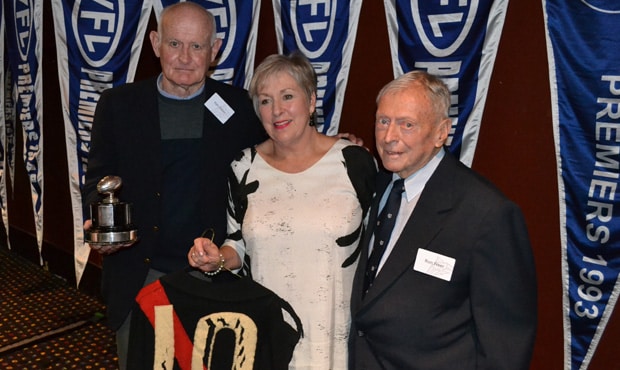 Over 175 members and guests attended this year's Annual Dinner, which was held at the Windy Hill Venue on Wednesday, September 26. Steve Alessio was MC this year and did a great job in introducing the guests and keeping things on track.
EFC Chairman Lindsay Tanner was once again in attendance at this year's dinner along with Board Members Katie Lio, Melissa Green, Andrew Muir, Sean Wellman and Simon Madden.
CEO Xavier Campbell along with Jessica Newman (EFC Head of Strategic Partnerships and Major Projects) and Jessica Brown (EFC Stake Holder Engagement Manager), all of whom have been fantastic in their support of and assistance to the Past Players Association, were also in attendance. A large number of representatives from other AFL Past Player Associations also attended.
President Barry Capuano, in his welcome to all present, mentioned that two of our oldest three member were present tonight, those being Harold Lambert (96) and Noel Allanson (93).
Unfortunately, Jack Jones (94) was an apology this year due to a broken hip. Barry also noted that those three players played in a total of 15 Grand finals for seven premierships.
The absolute highlight of the evening was the presentation of a John Coleman jumper to the EFC Past Players Association and EFC. Committee member Barry Besanko introduced Ron Freer, a close family friend of the Besanko family who was donating the jumper.
Ron, who is now in his 90's, was a very close friend of John Coleman's. John was Best Man at Ron's wedding and Ron was a pall bearer at John's funeral.
At the end of John's playing days, John presented Ron with his 1954 jumper in appreciation of Ron's friendship and support. The Coleman family, represented at the presentation by John Coleman's daughter, Jenny Goullet, also gifted John's 1949 Premiership Trophy to Ron on John's passing. That jumper and Premiership Trophy were presented at the Dinner.
Ken Fraser accepted the jumper on behalf of the Past Players Association and the EFC. In his acceptance speech, Ken described some of his own memories of the great John Coleman including his memories of watching John play and as his coach from 1961 to 1967, which included premierships in 1962 and 1965.
Ken went on to speak about John's outstanding marking ability and in doing so, mentioned Aaron Francis' sensational mark this year and those great marks in the past by the likes of Matthew Lloyd and Simon Madden, both of whom were at the dinner.
Much to the amusement of all present, Ken said that Coley used to take four or five better marks than those of Matthew and Simon every quarter.
Former players who travelled from interstate included Stuart Barclay and Fred Gallaher (both from Qld), Peter Daniel (Tasmania) and Graeme Biessel (NSW).
Our comedian this year was Marty Fields who thoroughly entertained all present with his jokes, repartee and brilliant impersonation of his father Maurie Fields.
This event continues to grow year by year and is a real highlight. It's readily apparent to all present just how strong the bonds are that have been built up over the years and clearly demonstrates the strength of this part of the EFC. The Association now has 421 members across Australia.
Special thanks to the EFC for once again funding the drinks bill at the dinner.