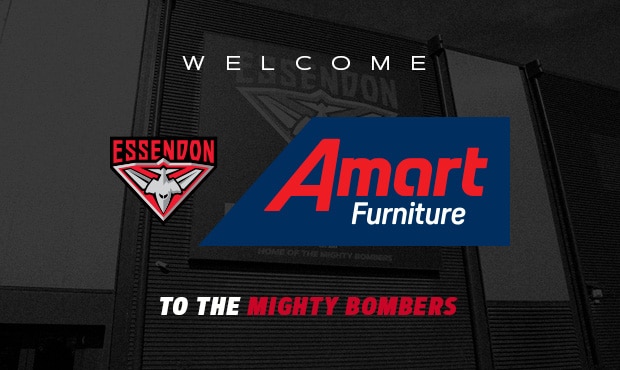 Essendon Football Club is thrilled to announce Amart Furniture has joined the Bombers as a new co-major partner of the Club.
The five-year partnership will see the Amart brand Don the Sash until at least the end of 2023.
Essendon Chief Executive Officer Xavier Campbell said the new partnership was a fantastic outcome for the Club.
"We are extremely excited to announce Amart Furniture as our co-major partner for the next five years," Campbell said.
"Our organisations share a vision for growth, we have like-minded values and a genuine commitment to work together, on and off the field, to be successful."
"Amart is a fantastic fit for Essendon. They are a truly national brand on a significant growth trajectory and it is a privilege to welcome Lee and the Amart team to the Essendon family.
"This partnership is also a significant commitment and show of faith in the direction of our football club.
"Finally, I want to thank KIA, our co-major partner for the last seven years, on behalf of the club for its commitment over the last seven years."
The partnership was launched on Tuesday afternoon at the 'Amart House Party' on the iconic hallowed turf of the MCG.
Amart Furniture Chief Executive Officer Lee Chadwick said Essendon's vision and values strongly align with Amart Furniture.
"Over the past four years Amart Furniture has transformed. We've doubled our workforce and number of stores, we've refined our supply chain, shifted our focus to customer service and re-branded," Chadwick said.
"We've come a long way and are now ready to take center stage.
"A final piece of our evolution is our partnership with Essendon Football Club which we are proudly entering into today and will continue over the next five years.
"While it is one of the most successful clubs in history with 16 premiership wins, Essendon Football Club has one of the strongest brands in the AFL competition with more than one million supporters nationally and a growing membership base of 80,000.
"This sheer size of the Essendon brand, the club's values and commitment to community provides a prime opportunity to position Amart Furniture on a highly visible national scale."
To find out more about Amart Furniture, click here.
document.getElementById("vudoo-iframe-38806278267").onload = function() {var vudooFrame = new vudooIframeEmbed({frame:this,embedid:"38806278267"});};var toggle_frame_screen=function(e,t){var l=document.getElementById("vudoo-iframe-38806278267");e?(l.style.position="fixed",l.style.bottom="0",l.style.left="0",l.style.width="100vw",l.style.height="100%",l.style.zIndex="500000"):(l.style.position="",l.style.top="",l.style.left="",l.style.width="",l.style.height=t.frameHeight,l.style.maxWidth="100%")};