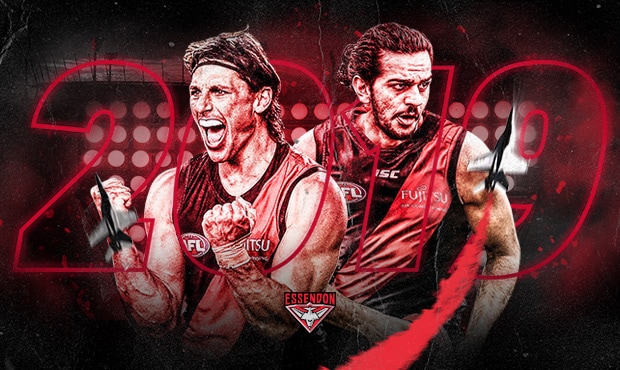 Essendon Football Club is pleased to announce Mark Baguley and Jake Long have extended their contracts with the Bombers for an additional year.
The new deals will see the duo Don the Sash until at least the end of 2019.
Since arriving at the Club in 2012, Baguley has played 124 games in the red and black. The 31-year-old was recruited by Essendon as a mature-age rookie with pick 47 in the 2012 AFL Rookie Draft.
Baguley said he was thrilled to extend his contract with the Bombers.
"I'm extremely excited for next season, we are a young group that are hungry for success," Baguley said.
"I look forward to another big preseason and seeing what we can achieve as a team in 2019."
GM List and Recruiting Adrian Dodoro said the versatile utility will continue to play a significant role in the Bombers' line-up in 2019.
"Mark had a terrific 2018 season, his form as a pressure forward was outstanding," Dodoro said.
"He added another string to his bow, he has been known as being a defender but went forward this year and made a huge difference to our forward-line pressure.
"We felt that he deserved to be rewarded with another contract and we are thrilled that he will be continuing on next year."
Jake Long arrived at the Club with pick 47 in the 2015 AFL Rookie Draft. The young wingman, who has played five senior games since making his debut at the end of the 2016 season, will be eyeing off more exposure at a senior level in 2019.
Dodoro said Long has shown promising signs this season in the VFL side and will continue to develop his skills with another pre-season under his belt.
"Jake is a player that the Club has invested a lot of time and development into," Dodoro said.
"He came to the Club with raw but natural talent and we knew that would take some time to develop. But we're confident that he has the potential to be a regular player in the senior side next season, so we look forward to seeing what Jake can produce on the training track this pre-season."
To view Mark Baguley's official player profile, click here.
To view Jake Long's official player profile, click here.
This news is brought to you by Orchard HRO, the club's Official Recruitment and List Management Partner.
document.getElementById("vudoo-iframe-82695780603").onload = function() {var vudooFrame = new vudooIframeEmbed({frame:this,embedid:"82695780603"});};var toggle_frame_screen=function(e,t){var l=document.getElementById("vudoo-iframe-82695780603");e?(l.style.position="fixed",l.style.bottom="0",l.style.left="0",l.style.width="100vw",l.style.height="100%",l.style.zIndex="500000"):(l.style.position="",l.style.top="",l.style.left="",l.style.width="",l.style.height=t.frameHeight,l.style.maxWidth="100%")};