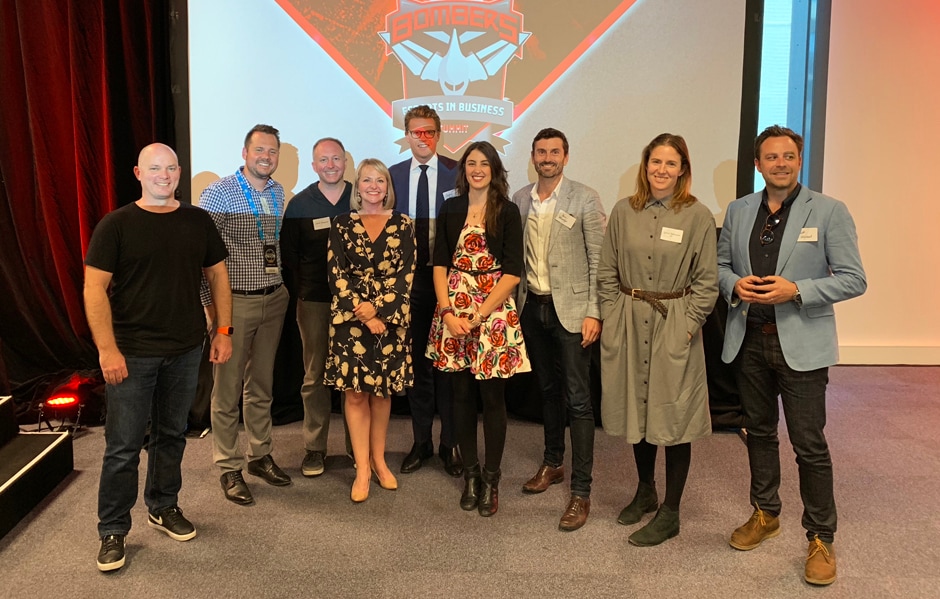 The inaugural Bombers Esports in Business Summit was launched today at Melbourne Park with keynote speaker, RMIT Lead Researcher Dr Emma Witkowski, exclusively revealing the executive summary from the Establishing Esports Value research study.
Developed in partnership between Essendon Football Club and RMIT, Establishing Esports Value provided valuable insights into spectatorship and fandoms, and the state of the most prominent esports league (OPL). It examines the key relationships between players, teams, fans, communities and platforms in the region.
The preliminary findings of the study reveal dominant interrelated themes involved in developing a sustainable networked media sport industry within the Australian esports sector.
Essendon Chief Commercial Officer Justin Rodski said the findings will be used to shape the Bombers' esports strategy in 2019.
"We believe this study is an important step towards establishing relevance and authenticity in the esports industry," Rodski said.
"Bombers Esports has made a serious and concerted effort to drive the growth, professionalisation and commercialisation of esports in Australia. This in turn will create an industry and ecosystem that has long-term stability and viability.
"The findings from the Establishing Esports Value research will help us to showcase the real value of getting involved in esports for brands and other stakeholders, especially now, before the trajectory takes off."
In examination of one of Australia's more established esports scenes League of Legends (Riot Games), Witkowski explores how this regional esports ecosystem is currently situated as spectator sport, highlighting the tensions between local-global fan practices, and various issues impeding growth and sustainability for local high-performance esports players, professional industry members and spectators alike.
Dr Witkowski said Australian esports is on a steady incline.
"Developing the sector is not an isolated task or a simple 'fix' through traditional sports involvement or the sudden appearance of a superstar player," she said.
"Growth for Australian esports will be a slow burn, not a boom, tied to multiple dynamic factors affecting development, and this allows some breathing room.
"Lingering apprehensions surrounding esports cultures can be addressed sensibly, across stakeholders, during this growth period, and with productive action (rather than reaction).
"This includes addressing questions about cultivating socially-equitable participation in this new leisure/sports sector. Tackling the ongoing challenges surrounding online behaviour in competitive gaming and the issues involved when networked gambling borders a youthful, online, leisure activity, will also be important."
Dr Emma Witkowski is the keynote speaker of today's summit and will be discussing the preliminary findings of the @RMIT and @EssendonFC research paper into esports fandom.@ekwitkowski #EsportsInBusiness pic.twitter.com/CMeMPpRUhd

— Bombers (@bombers) November 16, 2018
Rodski said the summit provided an opportunity for Australian esports stakeholders, both old and new, to further their knowledge of the fast-growing industry.
"This year's summit was a great success for the Australian esports industry as it gave attendees the opportunity to learn about the industry and opportunities for growth," Rodski said.
"As a club, we are excited to delve deeper into Emma's findings and continue to build on what we have developed and further solidify our position within this esports industry."
The Summit included a number of other key speakers including Scott Wenkart – Managing Director Showdown, Aaron Reynolds – Director Pernix Data, Danielle Bleazby – Head of Customer Experience AFL and an Esports Investment Panel with Ben Sellenger – Executive Director Bastion Live, Director Avant Gaming, Jason Kwan – Director, Australian Esports Association and Lalor McMahon – Regional Marketing Manager, Razer ANZ.
The AFL in collaboration with Riot Games will host the League of Legends: League of Origin Grand Final between New South Wales and Victoria at Margaret Court Arena on Saturday 17 November.
For tickets to the League of Origin Grand Final, click here.
A live broadcast of the event will also be available on Twitch.tv.
document.getElementById("vudoo-iframe-82695780603").onload = function() {var vudooFrame = new vudooIframeEmbed({frame:this,embedid:"82695780603"});};var toggle_frame_screen=function(e,t){var l=document.getElementById("vudoo-iframe-82695780603");e?(l.style.position="fixed",l.style.bottom="0",l.style.left="0",l.style.width="100vw",l.style.height="100%",l.style.zIndex="500000"):(l.style.position="",l.style.top="",l.style.left="",l.style.width="",l.style.height=t.frameHeight,l.style.maxWidth="100%")};