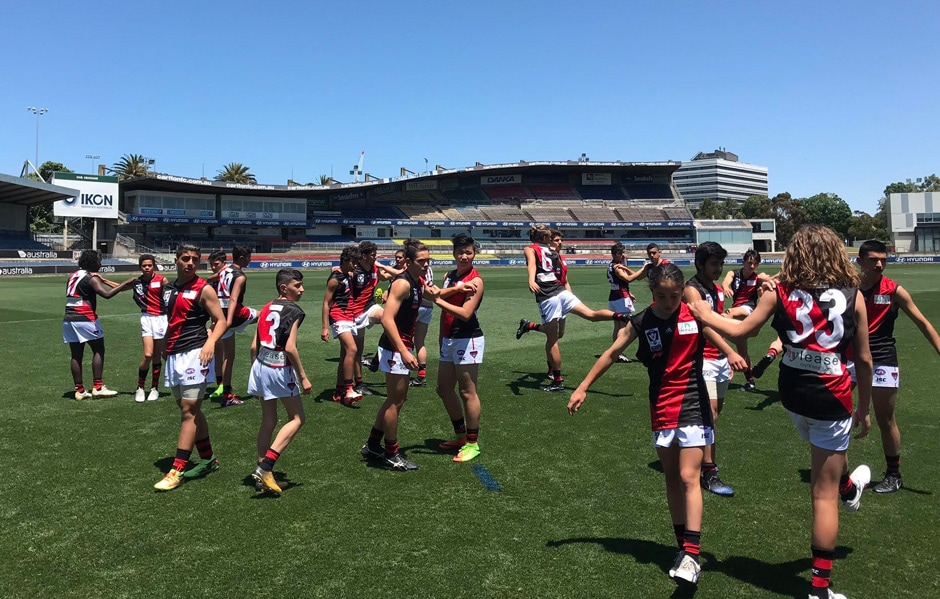 Essendon's future appears bright after the club's under-15 Next Generation Academy side ran away with a 22-point victory over Carlton at Ikon Park on Saturday.
Aged 13 and 14 from 11 different nationalities and featuring five indigenous players, the exciting squad showed potential in spades in an impressive performance that saw some of the future stars of the club flex their muscles.
The Bombers got away to a hot start with a four-goals-to-one opening term, controlling the game from the outset to win 10.8 (68) to 7.4 (46).
Young gun Carlos Egan – who is known for taking a cracking screamer representing Victoria's under-12 side in 2016 (see below) – dominated in a clear best-on-ground performance, with several other Bombers showing their immense talent in the red and black.


Essendon Academies Manager Harmit Singh led the team and said the game was an exciting chance for the squad to play competitively and put on a great show.
"It was a fantastic opportunity for multicultural and indigenous players from within our NGA zone to come together and play football," Singh said.
"Given the limited contact hours we had with the whole group, from a coaching perspective I was very pleased with their ability to work as a cohesive unit and play team football.
"Credit to both teams in the way they played and conducted themselves, it made for very exciting viewing for everyone in attendance."
A number of young Bombers will now get the chance to further develop their skills at the club to help fine tune their preparation for potential AFL careers at The Hangar.
"Following on from this game, 12 players have been selected to participate in the Daniher Squad, which is an 11-week program running until April 2019 which will hopefully see players coming through the AFL Talent Player Pathway and potentially on to our AFL list."
ESSENDON 4.1 7.4 8.6 10.8 (68)
CARLTON 1.1 4.2 4.3 7.4 (46)
Goals: Lachlan Fazzolari 2, Jordan Bourke, Ahmed Assaad, Carlos Egan, Iesa Saad, Mohamad Saad, Mahmoud El-Hawli, Mitchell Johnson, Matthew Foley
Best Players: Carlos Egan, Jordan Lay, Patrick Gleeson, Jordan Bourke, Mitchell Johnson, Logan Johnson, Mohamad Saad, Ahmed Zahraman
  document.getElementById("vudoo-iframe-11859713859").onload = function() {var vudooFrame = new vudooIframeEmbed({frame:this,embedid:"11859713859"});};var toggle_frame_screen=function(e,t){var l=document.getElementById("vudoo-iframe-11859713859");e?(l.style.position="fixed",l.style.bottom="0",l.style.left="0",l.style.width="100vw",l.style.height="100%",l.style.zIndex="500000"):(l.style.position="",l.style.top="",l.style.left="",l.style.width="",l.style.height=t.frameHeight,l.style.maxWidth="100%");};
document.getElementById("vudoo-iframe-12673018163").onload = function() {var vudooFrame = new vudooIframeEmbed({frame:this,embedid:"12673018163"});};var toggle_frame_screen=function(e,t){var l=document.getElementById("vudoo-iframe-12673018163");e?(l.style.position="fixed",l.style.bottom="0",l.style.left="0",l.style.width="100vw",l.style.height="100%",l.style.zIndex="500000"):(l.style.position="",l.style.top="",l.style.left="",l.style.width="",l.style.height=t.frameHeight,l.style.maxWidth="100%");};