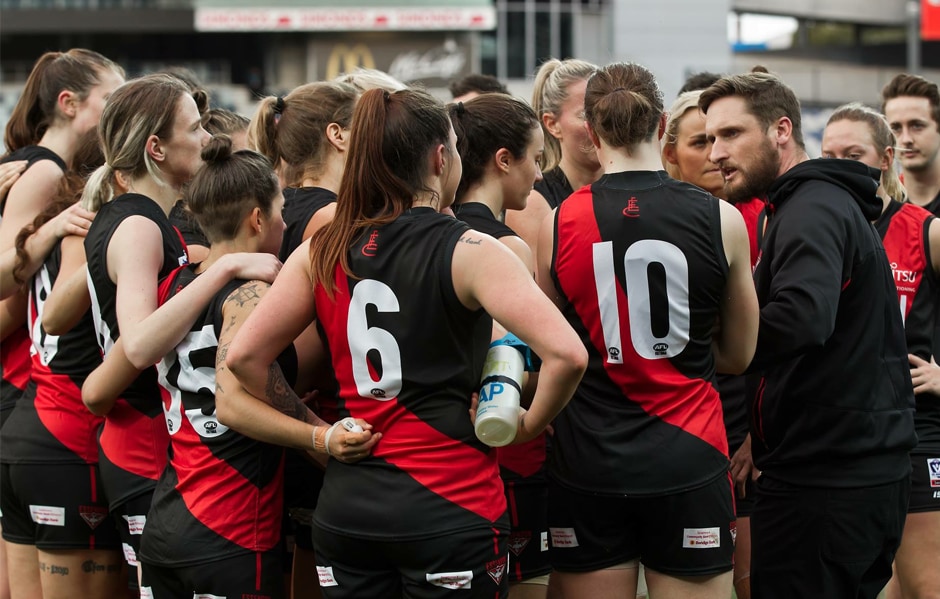 The 2019 coaching line-up for Essendon's VFL Women's program will feature two familiar faces and three new assistants.
Senior coach Brendan Major will once again lead the VFLW Bombers, joined by assistants Wayne Schultz, Bernard Shepheard and Brett Pollard.
Schultz, who joins the VFLW program after leading Essendon VFL's backline, said he saw plenty of scope for growth.
"When the opportunity came up, I was really excited and thought it's another range of skillsets to gain, not just as a coach but as a person as well," Schultz said.
"I loved what I saw throughout the VFLW season. I got a sense of where the program was at and I loved what I could see there. I see jumping across as a great opportunity to help the program grow."
View Essendon's 2019 VFLW fixture
Previously holding the positions of VFL interchange coach and opposition analyst, Shepheard - who is currently Essendon's Next Generation Academy program manager (Arnhem Land and Tiwi Islands) and community programs manager - will now add the position of VFLW forwards coach to his bow.
"They're (VFLW players) so coachable and they're so proactive to the things that we're teaching them, so I feel their skill development is going to come on as a result. You can see that they're going to pick things up quickly," said Shepheard, who coached as an assistant at Pascoe Vale in the Essendon District Football League during the last two years.
"While I do have a lot of coaching experience, it's the first time I'll coach a line directly. I want to achieve a really close bond with our forwards group."
Pollard joins the Bombers after stints at Carlton's AFLW team, the Calder Cannons and West Preston Lakeside in the NFNL.
"They're going to learn a lot from last year," Pollard said.
"Hopefully with myself, 'Shep' and 'Schultzy' coming on board, they'll see what we're doing and learn from last year. If we can win a few games along the way and enjoy the football, that's half the battle.
"It's a great opportunity to work with some of the best players going around and wanting to improve and get on an AFLW list or stick around with us when we get an AFLW list."
Click here for more Essendon VFLW news
Major said his side was looking to take the next step forward after a challenging inauagural season that yielded just one win.
"All coaches bring a wealth of experience and knowledge to the team," Major said.
"Schultz will be great for development of not just players but coaches as well. Shep exemplifies the team-first attitude and will focus heavily on teamwork in our forward line. 'Polly' has an attacking view of defence and will be instrumental in developing attacking play off half-back."
In addition to the signing of the three new assistant coaches, Essendon's 2019 line-up will also feature two development coaches in the retained Jarrad Campbell and recently retired forward Tash Hardy.
"'JC' worked within both male and female Essendon VFL programs in 2018," Major said.
"He added a great deal to our program last year and will work closely with Polly to develop the backline.
"Tash developed a significant role in developing the culture among the playing group last year. She will work closely with Schultzy and the midfield to develop a strong engine room and start her coaching career."