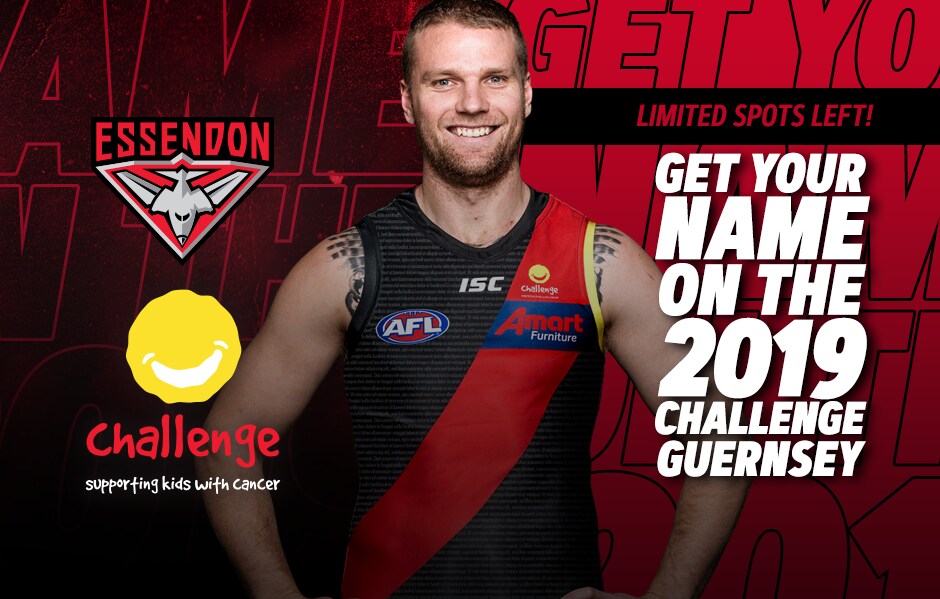 Due to high demand, an extra 150 lucky fans will have their name added to this season's exciting 2019 Challenge Guernsey to be worn in round 17's Tackling Childhood Cancer Game.
All proceeds from the guernsey sales will go towards club charity partner Challenge, a not-for-profit organisation that provides crucial support for kids and families living with cancer.
Each fan who purchases a name* will also receive a souvenir guernsey boxed and delivered, an invitation to an event at Challenge where you can meet EFC players alongside children and family members who benefit from the organisation, as well as the opportunity to purchase your favourite player's match-worn guernsey.
Numbers are extremely limited, so be quick to ensure you don't miss out on your unique chance to be a part of club history and see the Bombers run out onto Marvel Stadium wearing your name against North Melbourne on July 13.
CLICK HERE TO ADD YOUR NAME TO THE GUERNSEY FOR JUST $399
*Names to appear on the guernsey will be limited to 17 characters, including spaces.
document.getElementById("vudoo-iframe-12035189023").onload = function() {var vudooFrame = new vudooIframeEmbed({frame:this,embedid:"12035189023"});};var toggle_frame_screen=function(e,t){var l=document.getElementById("vudoo-iframe-12035189023");e?(l.style.position="fixed",l.style.bottom="0",l.style.left="0",l.style.width="100vw",l.style.height="100%",l.style.zIndex="500000"):(l.style.position="",l.style.top="",l.style.left="",l.style.width="",l.style.height=t.frameHeight,l.style.maxWidth="100%");};